Meet Baraka
Baraka is a sweet and playful young rat that is being trained as a Mine Detection Rat or 'HeroRAT' for short. He is training under expert handlers in Tanzania at APOPO's Training and Innovation Center.
Meet Ronin
Ronin is a gentle landmine detection rat and loves shoulder rides. On the minefield he is focused and hardworking. Based in Cambodia, Ronin sniffs out deadly explosives faster than conventional solutions.
Meet Carolina
Carolina is a female tuberculosis detection rat based in Dar es Salaam, a mega-city in Tanzania. Carolina can search 100 sputum samples in 20 minutes, much faster than a lab technician. Adopt Carolina and help us fight TB.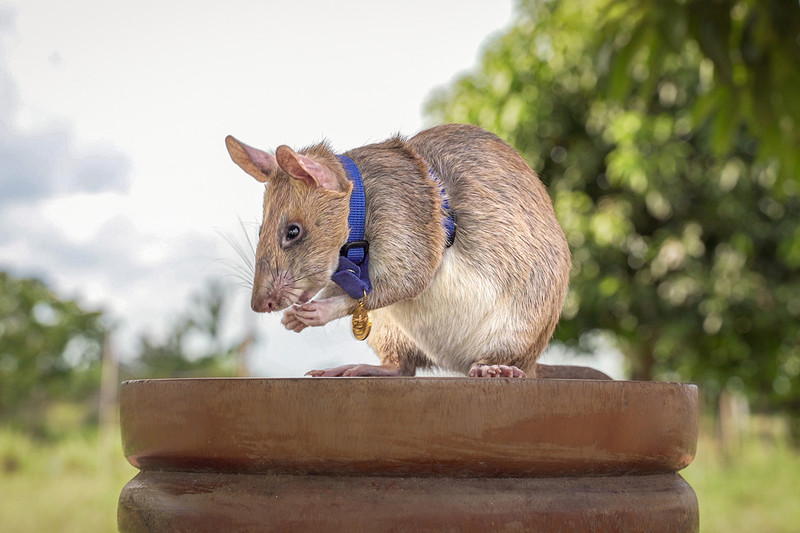 GOLD MEDALIST MAGAWA
Magawa is APOPO's most successful HeroRAT. During his illustrious 5 year career, Magawa's work directly saved the lives of men, women and children who were impacted by hidden landmines and other deadly remnants of war in Cambodia. In September 2020, veteran Magawa was formally presented with a suitably rat-sized PDSA Gold Medal – the animal equivalent of the George Cross – by the UK's leading vet charity. He is the first rat in the charity's 77-year history of honoring animals to receive a PDSA Medal – joining a line-up of brave dogs, horses, pigeons and a cat. With mixed feelings, APOPO announced Magawa's retirement in June 2021. Sadly Magawa passed on peacefully in his sleep in early January 2022.
Meet Mannes
Mannes is strong-minded and a hard worker. Based in Siem Reap, Cambodia, he's known for his tenacity, high-levels of concentration, and loyalty when he's out in the field.
Meet Cyklon
Cyklon is a Belgian Shepherd with a nose for landmines and unexploded remnants of war. He's energetic, fast, and thoroughly enjoys lazing in the sun after a hard day's work.
Meet Gizmo
Gizmo is a Belgian Shepherd with incredible energy at work. She's always wagging her tail but don't be fooled by her playfulness - she's serious when it comes to detecting landmines.
YOUR SUPPORT IS HELPING
PEOPLE LIKE DIT SUM
APOPO saves lives – I'm getting my life back on track!
WHERE YOUR SUPPORT REALLY MAKES A DIFFERENCE
Saving Lives
Landmines and tuberculosis kill. Your support enables people to live, work, and play without fear.
Training Animals
There are over 300 animals under our care. Your support ensures they're treated like the heroes they are.
Social Change
APOPO empowers people and communities. Your support helps create jobs and improves economic and environmental conditions.
Welcome Pack
A digital Welcome Pack stacked full of pictures, facts, figures, and quotes that will tell you everything you need to know.
Adoption Certificate
A digital certificate of adoption with your name on it.
Monthly Impact Updates
Monthly updates direct to your email inbox to keep you up to date with the latest news and information from the field.
WANT TO FIND OUT MORE ABOUT ADOPTIONS?
The quickest way to find the answer to your question is to take take a look at our FAQ pages under the HeroRATs or HeroDOGs tab.
If you still need help, send us an email!
Just $30 will clear 30m2 of minefield
Join us on a life-saving mission
Gifts that you'll never forget