APOPO in Angola
APOPO has been working in Angola since 2012 and is currently operational in the west of the country in Cuanza Sul. To support a peaceful and secure Angola, APOPO is maintaining a strong demining capacity that boosts land release rates at significantly reduced costs. APOPO's mine detection rats are too light to detonate landmines and are very quick at finding them, making them an excellent tool for accelerating landmine clearance. In 2021 APOPO started a new collaboration with ️Centro Nacional de Desminagem (formerly INAD) – the national mine action institute and main public demining operator in Angola.
Background
The landmine problem in Angola is a legacy of decades of fighting during the war of independence against its former colonial ruler Portugal and the ensuing civil war. In 2002 Angola entered a new era of peace and reconciliation unprecedented in its history.
Despite substantial development in its capital Luanda, rural Angola still has vast areas that remain heavily contaminated with landmines, undeveloped, and among the poorest in the world. It is estimated that one fifth of Angola's population is affected by landmines and explosive remnants of war (ERW). Landmines not only kill and maim innocent people, but also isolate communities from basic needs such as water sources and travel routes, and productive land crucial for growing crops and grazing livestock.
Location
APOPO's operations were focused in the northwestern provinces of Malanje, Zaire and Uíge, all of which border the Democratic Republic of Congo. Since October 2020 this now also includes the western province of Cuanza Sul. Despite APOPO's commitment to Angola to help in meeting its objective of becoming mine-free by 2025 in accordance with Article 5 of the Anti-Personnel Mine Ban Convention (APMBC), the current mine clearance capacity country-wide is considerably less than it was just a few years ago. To this end, support and capacity for humanitarian demining in Angola must be ramped-up if Angola is to meet its 2025 deadline.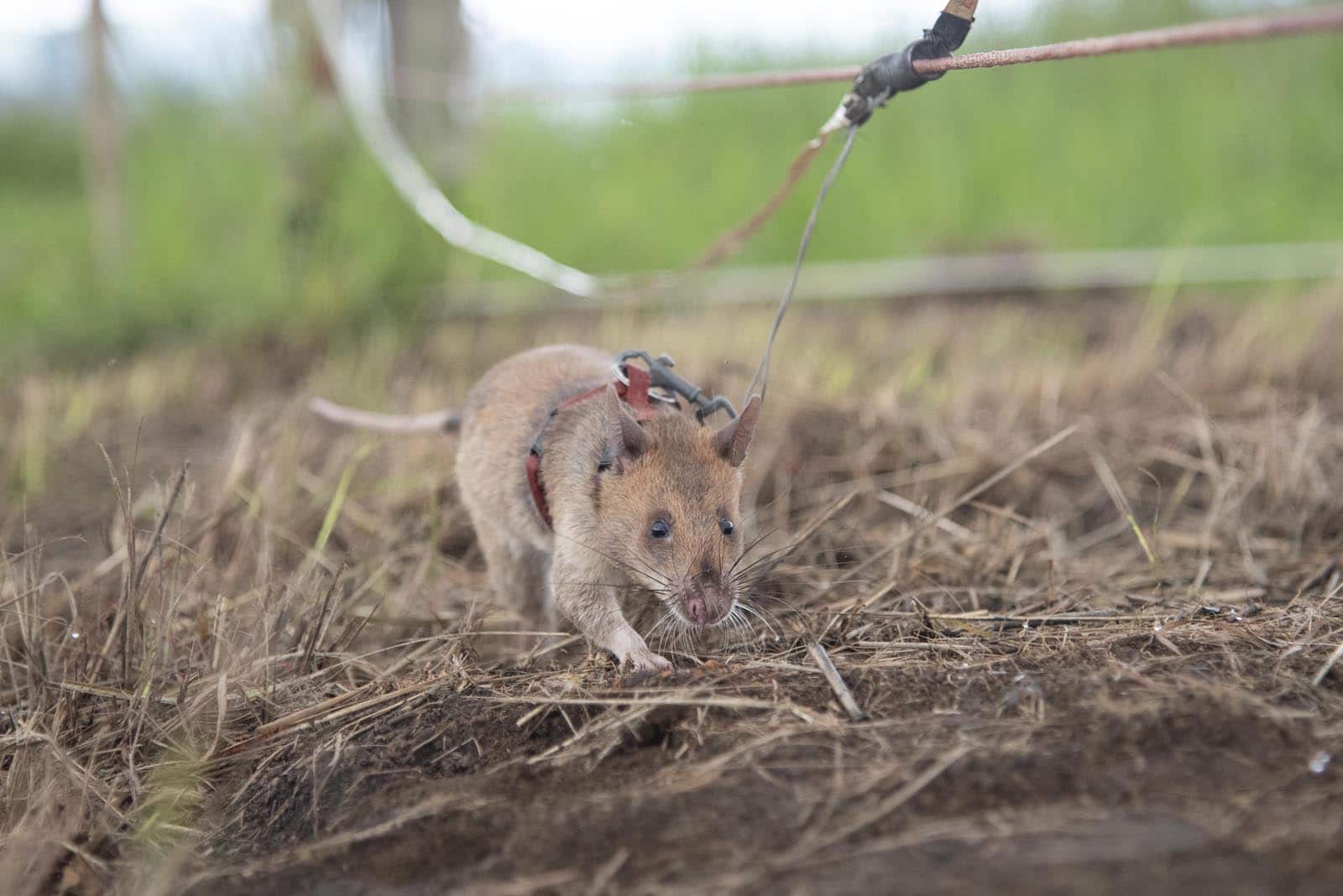 Previous tasks
APOPO and NPA cleared three minefields in Malanje province, in order to allow villages, schools and businesses to expand. These are typical Angolan rural townships that have been boxed in by dangerous minefields, leaving them unable to expand and develop. Likewise, the Malele minefield along the Congo border had been a no-go area for many years but is now a vibrant trading post.
In 2017 APOPO began working in Uíge province, where it has to date cleared four minefields. The cleared areas in Uíge will allow villages to expand in terms of new housing and agricultural areas as well as make way for the construction of a new municipal hospital which will serve the entire municipality of 32,764 people or 6,553 families.
Performance
In recent years, APOPO carried-out an important study to assess the impact of the mine detection rats (MDR) when used alongside conventional mine action approaches to the detection and disposal of explosive materials on land suspected as hazardous. This study looked at records of site clearance that used both traditional mine action methods as well as the MDR. This exercise was repeated in other countries with and without the MDR to establish a more complete set of data for the study.
In June 2016, the Geneva International Centre for Humanitarian Demining (GICHD) published a report on this study that praised the capabilities of APOPO's MDR and clearly highlights their advantage over conventional methods in certain operational settings. Read the full report.
In September 2020, APOPO completed a group of eight tasks actually comprising one big minefield near a residential area in the village of Quitexe about 39 kilometers south of the city of Uíge, in the northwestern province. APOPO worked in Uíge from March 2017 to September 2020. APOPO's work in Angola has impacted tens of thousands of lives and allowed hundreds of people to return home and farm their land safely. Development and expansion of villages can now begin because communities feel safe and confident to plan homes, hospitals, schools, small businesses, and infrastructure.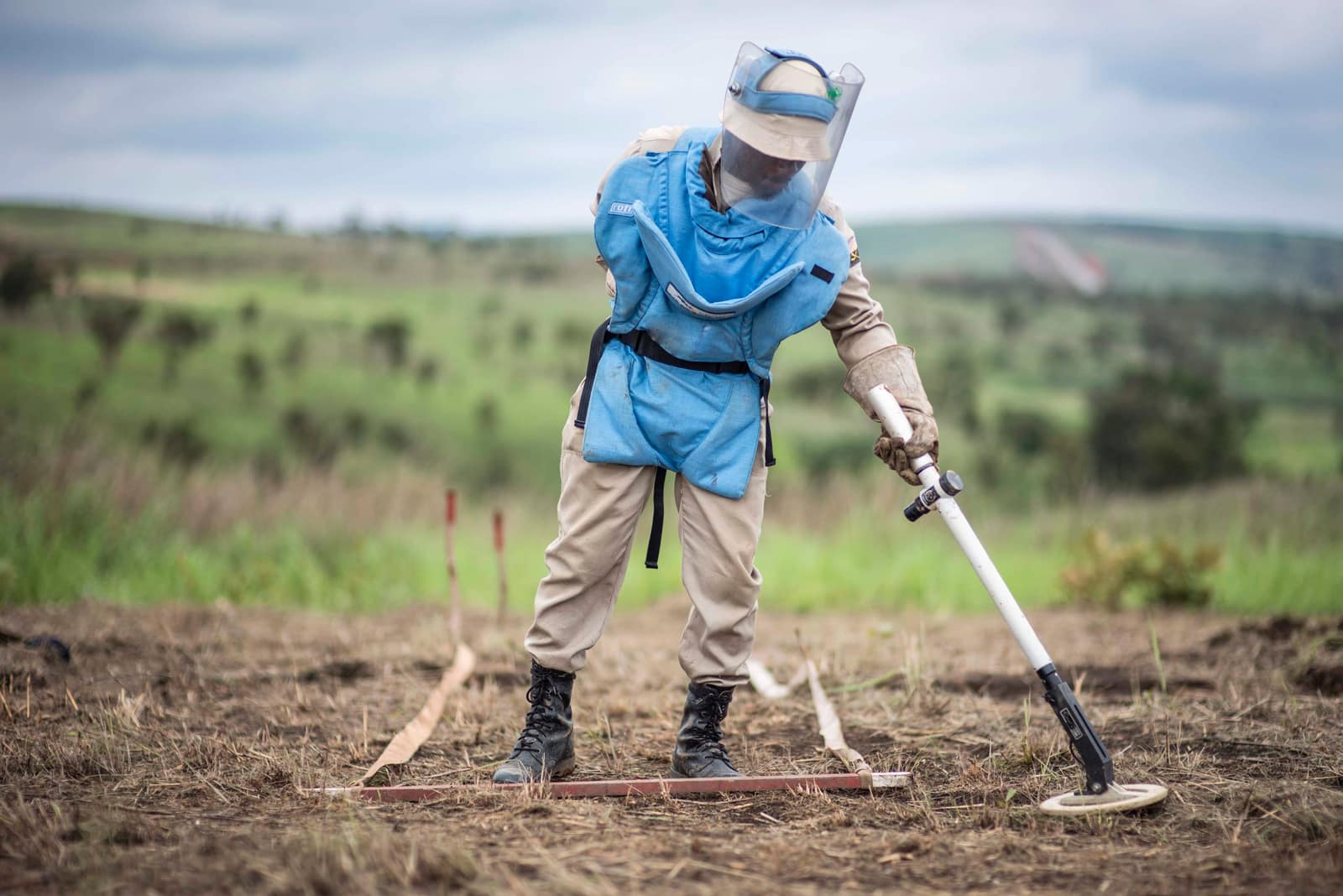 What next?
Following the completion of Uíge municipality, APOPO quickly moved onto the next National Mine Action Authority in Angola CNIDAH-assigned task in the western Cuanza Sul province. It is the fourth most contaminated province in Angola with 112 minefields that are estimated to be cover 8.5 million sqm. Due to the integrated economic activities, it is one of the main strategic provinces for the economic growth of Angola. The provincial government authorities welcomed APOPO and provide the necessary institutional support for our establishment and for a good start of operations.
APOPO surpassed its annual targets in 2021, clearing and releasing 2,644,461 sqm back to local communities directly benefiting 11,400 and indirectly benefiting 58,800 people. The teams found and destroyed over 54 landmines and other explosive remnants of war and 4,144 small arms and items of ammunition.
Clearing this land will directly benefit people from the local community providing safe access to vital farmland and bringing back transport routes and trade for the community. APOPO also helps keep people safe by teaching mine risk education—preventing devastating accidents until we can remove all the landmines and explosives for good.