In January 2023, APOPO hosted a visit from the Office of Weapons Removal and Abatement in the U.S. State Department's Bureau of Political-Military Affairs (PM/WRA) APOPO's operations in Zimbabwe. PM/WRA is APOPO's largest donor in Zimbabwe, and with COVID 19 concerns finally largely resolved, it was an honor to host them on site.
APOPO Zimbabwe
APOPO began operations in the Great Limpopo Transfrontier Park in January 2021. The park is home to more than 850 animal species and 2,000 plant species and is one of the first formally established peace parks in southern Africa. This 35,000 square kilometer park (13,500 square miles) links the Gonarezhou National Park in Zimbabwe, Limpopo National Park in Mozambique, and Kruger National Park in South Africa. APOPO's minefield is specifically located in Sengwe Corridor, one of seven mined areas along Zimbabwe's border with Mozambique. The Sengwe Corridor is a 37 km long minefield between Sango and the Mwenezi River, which has been divided into 17 sectors. Currently tasked by the Zimbabwe Mine Action Centre (ZIMAC) to clear 14 of these sectors, APOPO's task runs 26 km in length and can be up to 200m across.
National Stakeholder Dialogue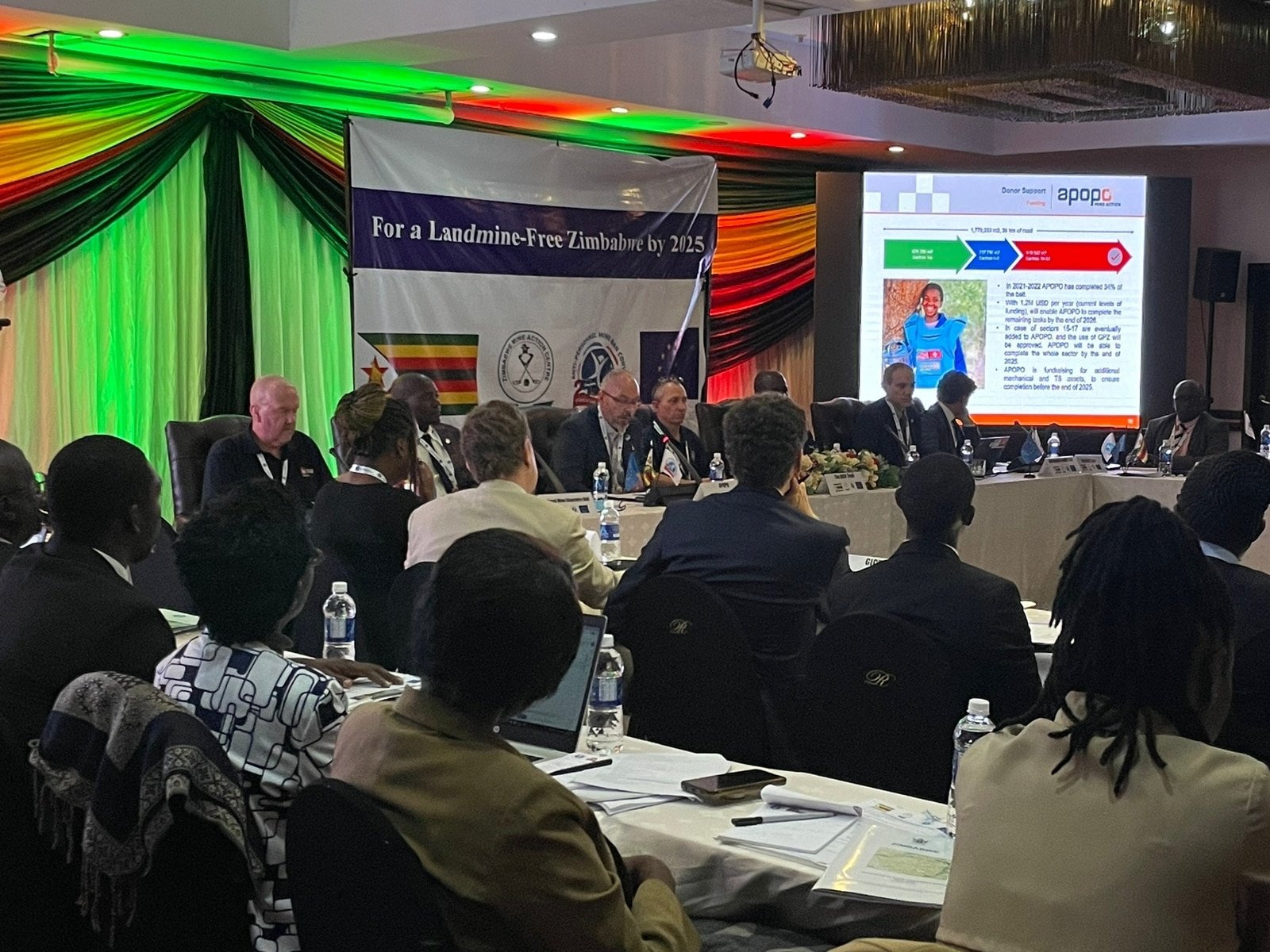 The "National Stakeholder Dialogue for a Mine-Free Zimbabwe by 2025" took place in Harare between January 24th and 26th. The event was organized by the Government of Zimbabwe, the National Mine Action Authority and supported by the International Support Unit for the Anti-Personnel Mine Ban Convention (APMBC) and European Union (EU). The participants in the three-day dialogue included operators, donors, embassies, Geneva International Centre for Humanitarian Demining (GICHD) in addition to representatives from the Ministry of Defense, and most importantly members of the communities that we serve in our operational areas. The second day included field visits to the HALO Trust and Mines Advisory Group's (MAG) operational areas. The event also provided an opportunity for mine action operators to present achievements and key challenges to be able to meet the 2025 mine-free deadline.
PM/WRA Visit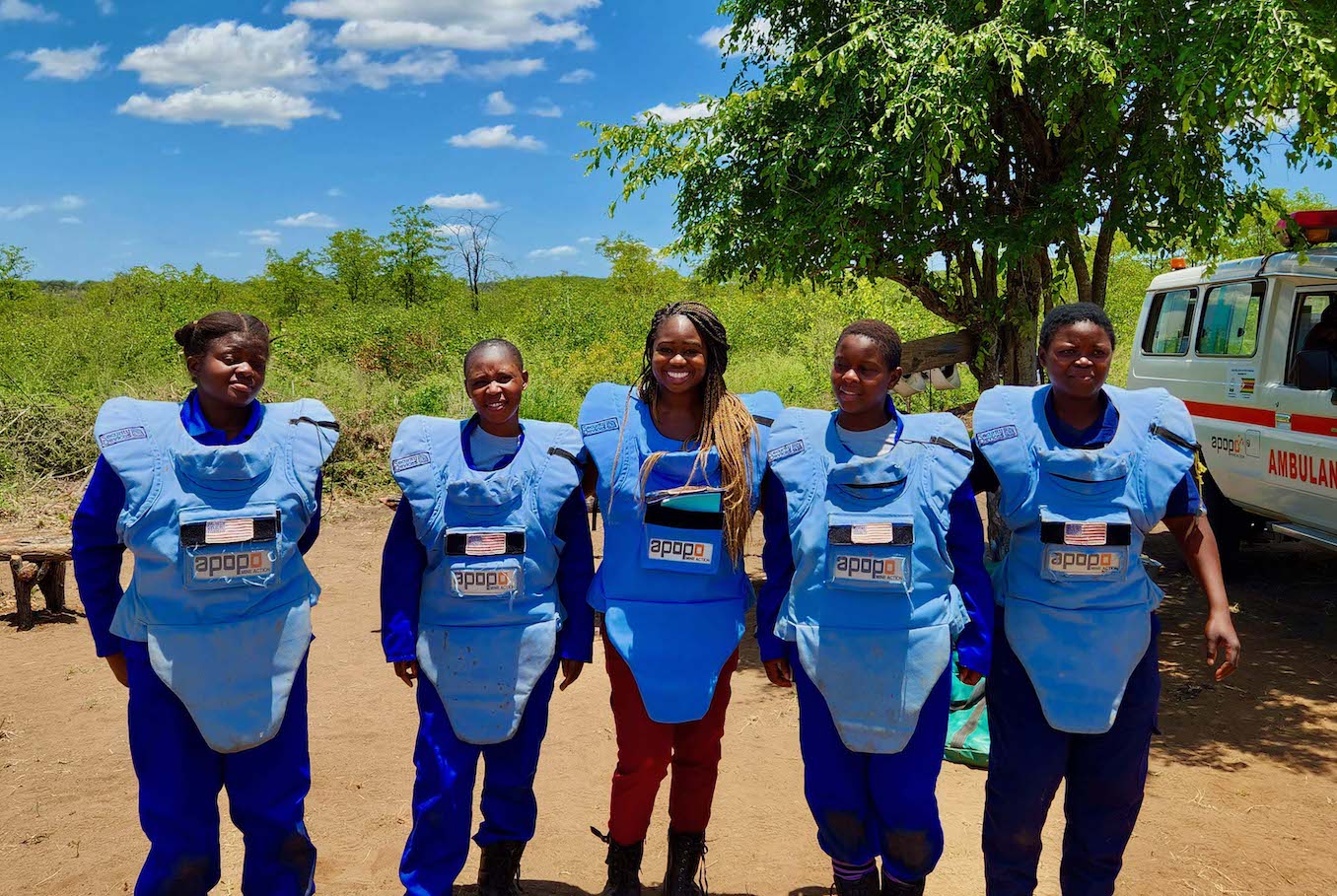 PM/WRA has supported APOPO in Zimbabwe since October 2020. From January 27 to 29, 2023, PM/WRA and U.S. Embassy staff visited APOPO operations in the Sengwe Corridor. After a grueling ten-hour, 600 km commute from Harare to the minefield, visitors began their camp visit with an operational and safety briefing. They interacted closely with the demining teams, even participating in a land mine detonation session. The visit concluded with an exploded ordnance risk education session for Chilotlela school, adjacent to the border minefield, where they also met with grateful village heads and the local school headmaster.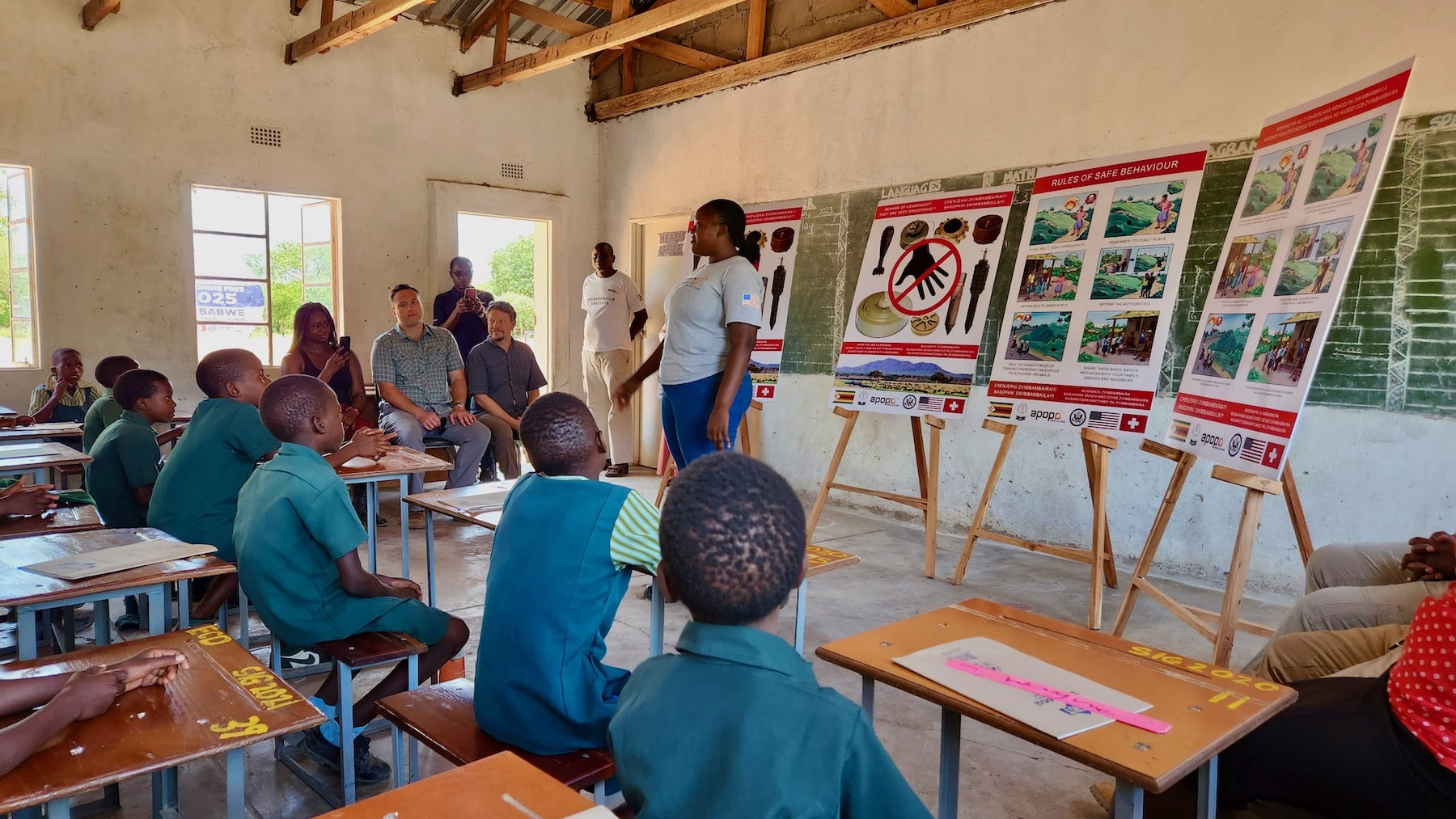 The visitors valued not only learning about APOPO's operations but also about the communities' daily challenges, including increased drought and a rapidly decreasing water supply. PM/WRA appreciated that APOPO hopes to coordinate syntropic farming and water infrastructure projects that can help mitigate these challenges. In fact, while the mines have blocked elephant migration corridors, demined land can now be turned over to communities for access to water and arable land and elephants can migrate through cleared wildlife corridors. By providing a more holistic community solution to conservation in the area which combines mine removal with the other two elements, APOPO is hoping to foster a more sustainable conservation eco-system moving forward.
In our area of operations, APOPO makes great efforts to promote the project, at village level far and wide, and directly to female leaders and village groups. As a result we ar able to meet the initial internal requirement of hiring at least 30% women (currently 32% of our staff are women). To date, the APOPO Zimbabwe team has cleared 584,636 m² (6,293,000 ft²) and found and destroyed 5,142 landmines and 4,530 boosters.
---
APOPO Mine Action Zimbabwe is incredibly grateful to our dedicated and generous donors that make our work possible..