Clearing the Path to a Safe Zimbabwe
APOPO is grateful for its inclusion in the 22nd Edition of "To Walk The Earth in Safety" and would like to express its appreciation. The United States has long been the largest financial supporter of humanitarian mine action worldwide, demonstrating unwavering commitment to addressing the devastating impact of landmines on civilian populations. Since the inaugural publication of "To Walk The Earth in Safety" in 1999, the U.S. State Department has not only highlighted its global support for mine action but has also played a vital role in educating and informing the public and the mine action sectors. It is, therefore, a great honor for APOPO to be featured this year.
In the remote southeast corner of Zimbabwe, bordering Mozambique, in the Chiredzi District of the Masvingo Province, APOPO's five manual mine clearance teams are diligently working to clear the 38 km CORSAN minefield situated within the Sengwe Wildlife Corridor. The CORSAN task, assigned by the Zimbabwe Mine Action Centre (ZIMAC), involves tackling a densely laid minefield with Anti-Personnel landmines interspersed with randomly placed Anti-Vehicle landmines. Thanks to invaluable support from the U.S. Government, in 2022, APOPO cleared and released 1,268,720 m2, and found and destroyed 3,921 landmines and boosters. APOPO also cleared 4.5 km of the Drag Road in 2022.
Chilotlela village is located in close proximity to the CORSAN minefield, where the treacherous and inaccessible fertile areas compel villagers to rely on neighboring Mozambican communities for essential commodities and facilities, including food and medical care. Farmers and young herders remain vigilant in keeping their cattle away from the minefield. However, landmines continue to pose a significant threat to stray cattle, frequently resulting in severe injuries.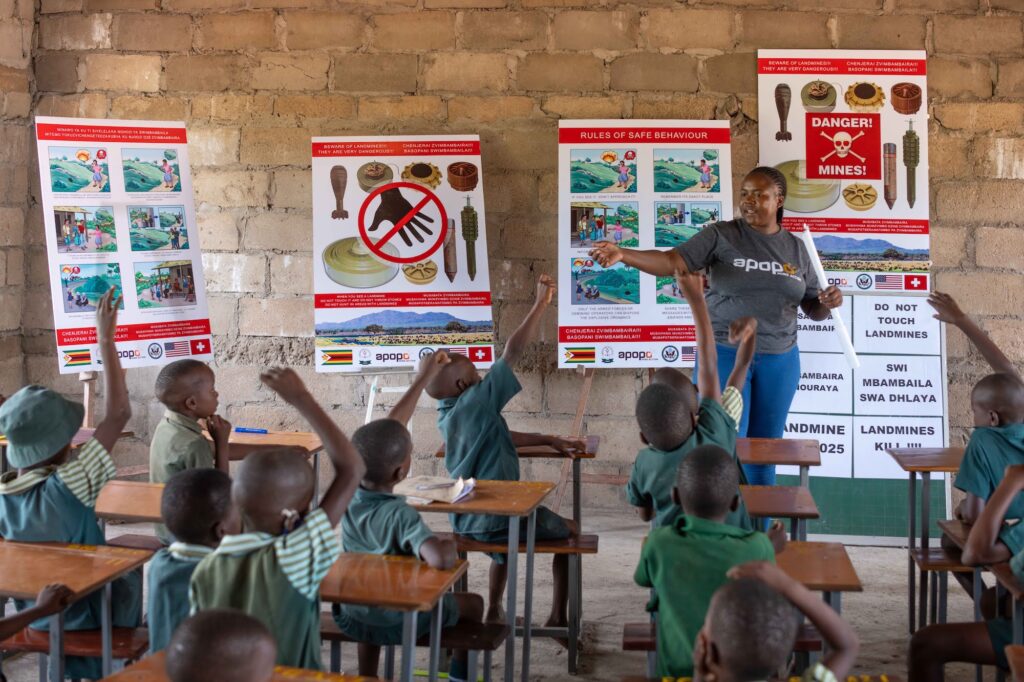 A considerable number of the 60 children attending Chilotlela Primary School are forced to cross or walk alongside the minefield daily to reach their school. Mine Risk Education is the best way to prevent casualties for families surrounded by hidden dangers. Risk education informs as many people as possible with life-saving information on recognizing, avoiding, and reporting threats. Children are particularly at high risk, so APOPO's risk education in Zimbabwe focuses on schools to maximize its reach. Women in the area face heightened vulnerability to landmines due to their daily activities, such as fetching water, collecting firewood, and farming in proximity to the minefield, placing them at risk daily.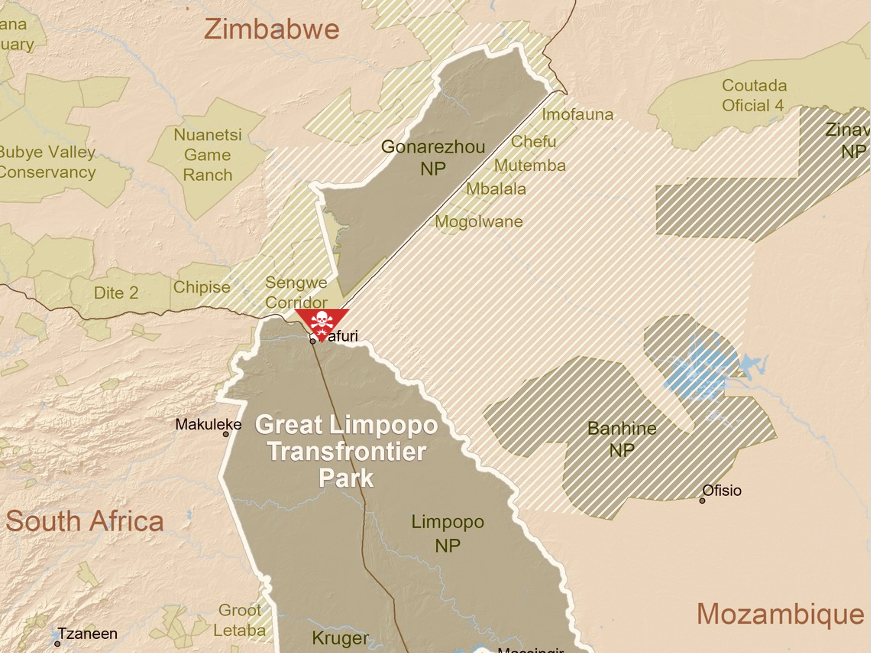 The presence of landmines in the border area poses a threat to small subsistence farming villages adjacent to the minefield on both the Zimbabwean and Mozambican sides. It hampers the development of tourism infrastructure and conservation opportunities. The area under APOPO's responsibility serves as a vital corridor for wildlife migration, including elephants. Tragically, landmines impede the natural migration of an estimated 10,000 elephants from Gonarezhou National Park to the neighboring Limpopo National Park in Mozambique and Kruger National Park in South Africa. This leads to overpopulation and habitat destruction, disrupting the essential gene flow necessary for maintaining genetic diversity.
By clearing the landmines, APOPO is creating opportunities for development, agriculture, and thriving eco-tourism, which will bring numerous benefits to local communities. It will enable conservation authorities to restore ecological systems and promote wildlife conservation as a viable land-use option that enhances both the livelihoods of the people and the well-being of wildlife in the area.
This project aligns with Zimbabwe's efforts to achieve a landmine-free status by 2025. With the generous contribution from the U.S. Department of State, APOPO has successfully released safe land, saved lives, and fostered economic opportunities for families residing in the area.
---