Between November 18-26, the Cambodia program hosted a visit from APOPO CEO, Christophe Cox, from operational headquarters in Tanzania and a senior team from the Marketing department.
The visit included the visiting all field sites including landmine detection rat clearance operations, the cluster munition survey dog operations and the dog training center. It also included visiting the APOPO Visitor Centre in Siem Reap. Seeing the animal teams at work finding real landmines and cluster munitions was most inspiring.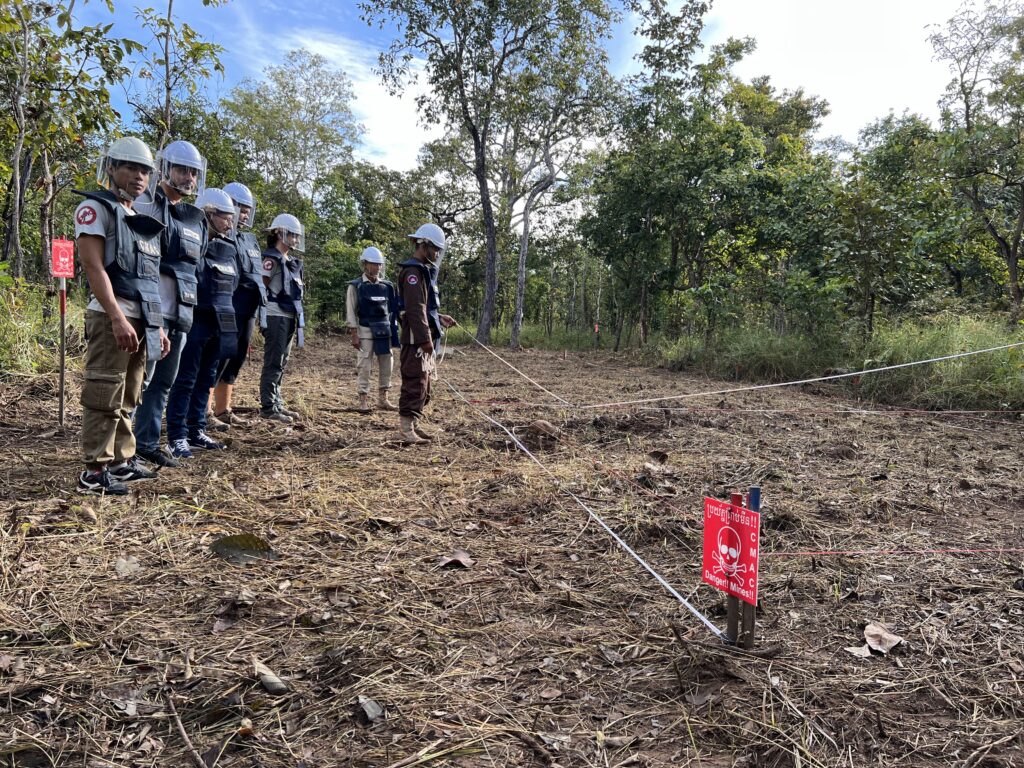 Mine Action Cambodia
APOPO primarily works in collaboration with Cambodian Mine Action Center (CMAC), removing landmines and other explosives in Cambodia since 2014. Our teams are made up of over 100 people, most of whom were recruited and trained from landmine affected areas. In this way APOPO targets the most mine-affected villages in order to return safe, productive land back to communities where it makes the biggest impact. The program currently has over 60 HeroRATs and HeroDOGs working in 4 provinces – Siem Reap, Preah Vihear, Battambang and Ratanakiri.
30 Years of Mine Action in Cambodia
During this time, APOPO was invited to attend the National Conference Commemorating 30 Years of Mine Action in Cambodia in Phnom Penh organized by the Cambodian Mine Action and Victim Assistance Authority (CMAA). APOPO's team showcased our work, the HeroRATs and our collaborations in Cambodia at a physical stand.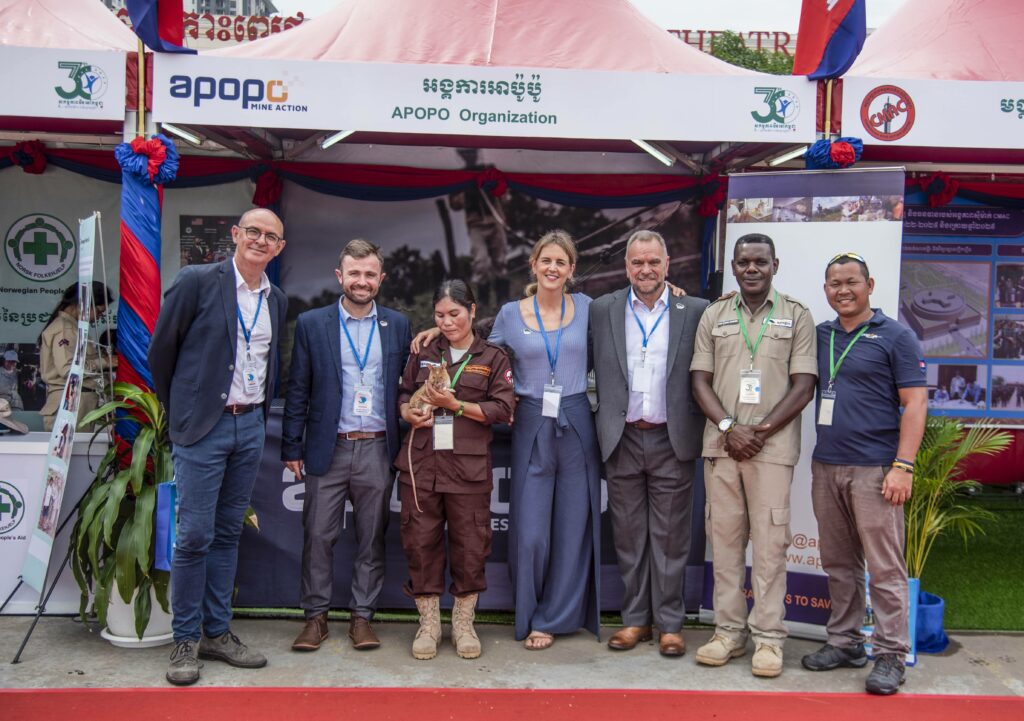 Amongst the many visitors to APOPO's stand were H.E. Senior Minister Ly Thuch, First Vice President of CMAA, rat handler Srey Mom, Director General of CMAC, H.E. Heng Ratana, UNDP Resident Representative Ms. Alissar Chaker.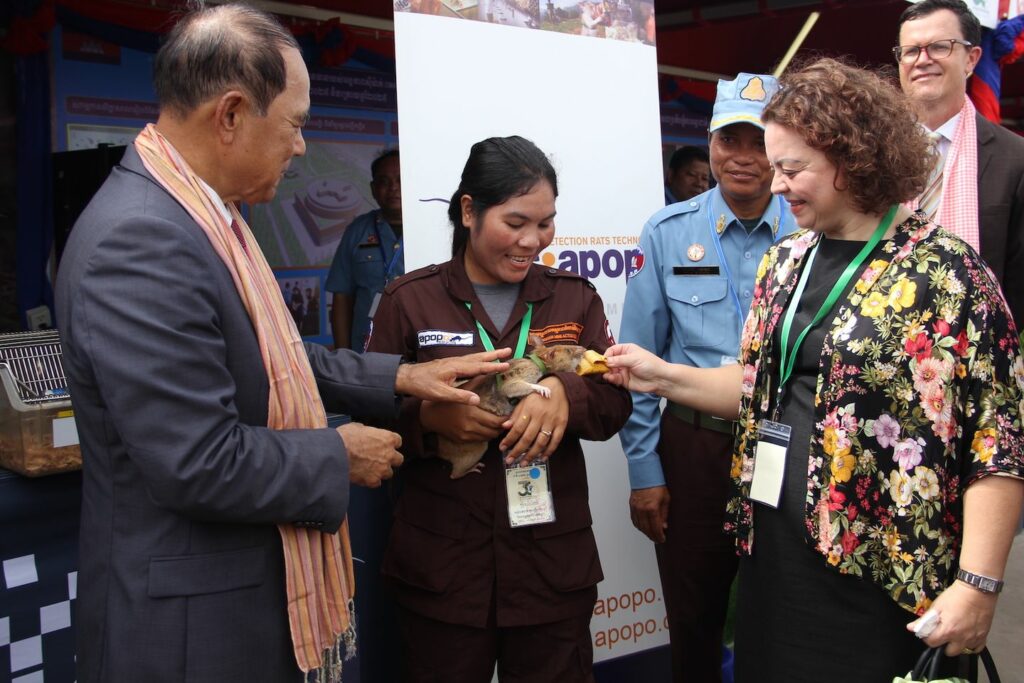 Meeting with First Vice President of CMAA
Following the event, APOPO CEO Christophe Cox and the Mine Action Leadership team met with H.E. Senior Minister Ly Thuch, First Vice President of CMAA, who expressed his gratitude for APOPO's work in Cambodia and discussed the future of the collaboration and the journey towards a Mine Free Cambodia. APOPO congratulated CMAA on 30 years of Mine Action and saving lives and for its valuable cooperation and support of the Mine Action Activities in the country.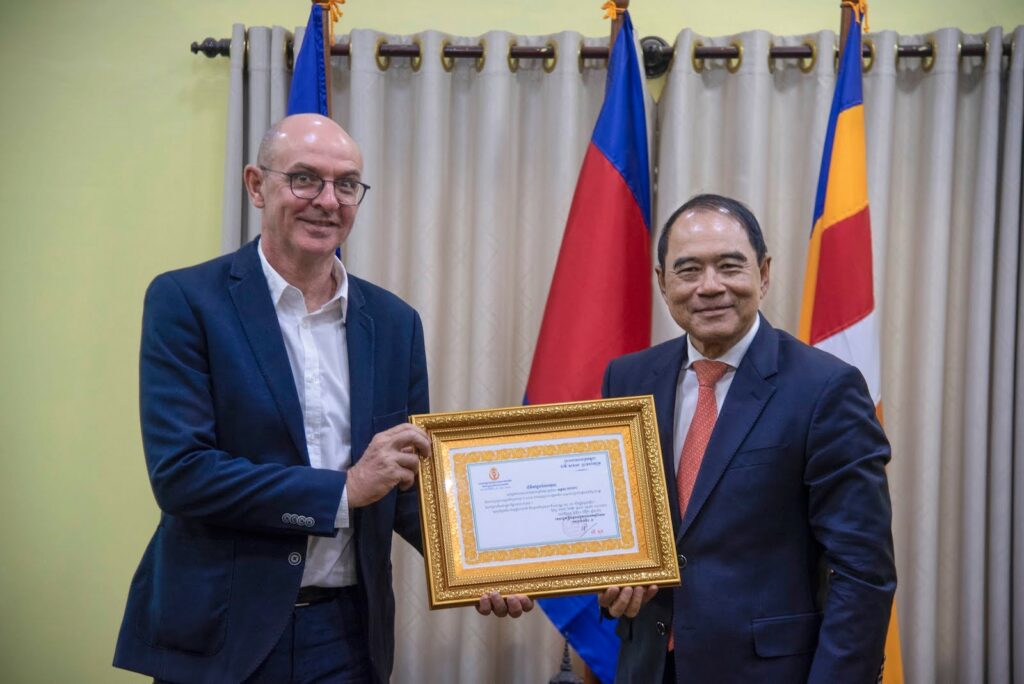 Senior Minister Ly Thuch said that the clearance of landmines in Cambodia has contributed to peace and the development of the country, particularly given the immense humanitarian need there was as people returned to the country after years living as refugees.
Next Steps
The Mine Ban Treaty deadline of 2025 is increasing the urgency to speed up clearance activities. This is still achievable should the needed animal teams and financial resources be allocated and access to contaminated lands secured in a timely manner. Sadly, one million people in Cambodia still live in areas contaminated by landmines and leftover remnants of war. They have the right to live in safety, with opportunity for a better life.
But landmine clearance is just the first step of a process. Once safe land is returned to communities, they need support to put the cleared land to productive use and rebuild their lives and livelihoods. They need access to basic social services and infrastructure to ensure further development and peace.
Some estimated 65,000 people and their families have fallen victim to the horrors of landmines and other explosives. As Cambodia moves forward towards the future, Victim Assistance must remain a priority to ensure that victims and their families are provided with support, rehabilitation, and socio-economic reintegration, founded in the principles of dignity and respect.
---
APOPO MA Cambodia is deeply grateful for the support and generous contributions of all its partners and donors.