Cambodia Mine Action Center (CMAC) and APOPO sign a new agreement for 2023.
APOPO's recently appointed Cambodia Program Manager, Michael Raine and CMAC Director-General, H.E. Heng Ratana, signed a new agreement for the continuation of APOPO's animal detection teams working in cooperation with CMAC operations in Cambodia in 2023.
This event took place in the capital Phnom Penh on November 22nd, and was attended by APOPO CEO Christophe Cox and Head of Programs Mine Action, Michael Heiman. The joint project uses a combination of Mine Detection Rats, Technical Survey Dogs, manual deminers and vegetation-cutting machines. APOPO would like to thank the Cambodian Mine Action Centre (CMAC) and its Director General Ratana, for the continued collaboration over the last eight years and the support of the project in the years to come.
The additional activities will accelerate the clearance in Siem Reap and Preah Vihear provinces by clearing approximately 5 million m2 of land, reducing the impact of landmines in the nearby communities and bringing Cambodia closer to its Mine-Free 2025 goal.
Contamination in Cambodia
According to the Mine Action Review, Cambodia's estimate of landmine contamination fell sharply from 801 km2 at the end of 2020 to 716 km2 at the end of 2021. It is estimated that many hundreds of thousands of landmines and other explosives continue to litter the countryside, presenting a major humanitarian and socioeconomic challenge. As well as causing deaths and injuries, landmines contribute to food insecurity by limiting safe access to potentially rich agricultural land and add to the cost of development projects when land needs to be demined. This continued contamination leads to unacceptable and tragic human consequences, severe economic repercussions and livelihood challenges. Mine clearance is a key-area in promoting development as well as saving lives and limbs.
Much work remains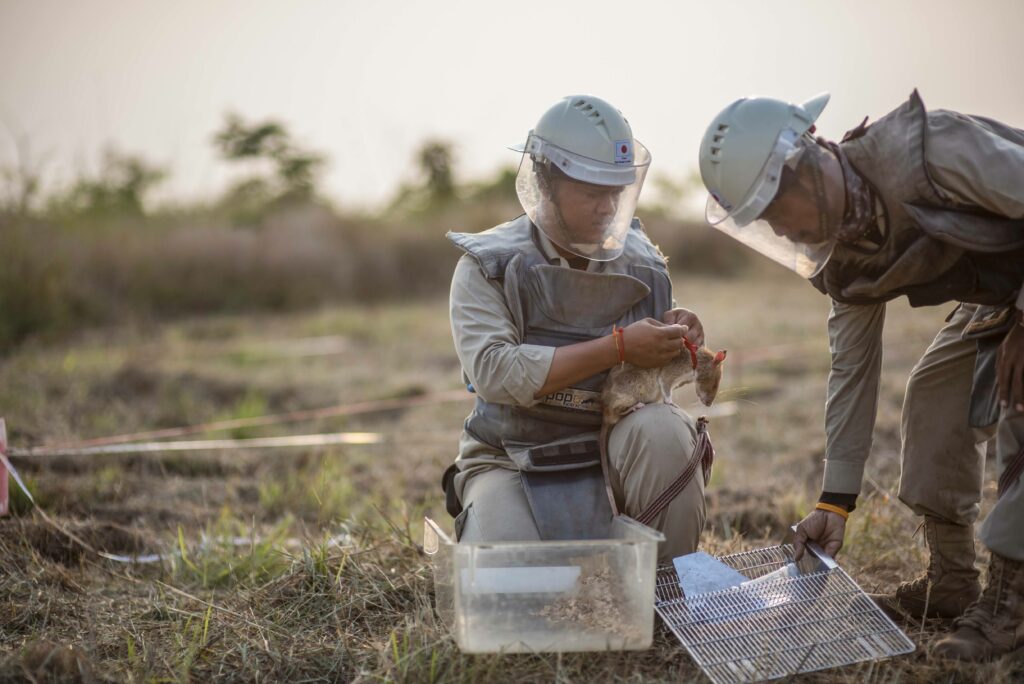 APOPO works in cooperation with CMAC in Siem Reap and Preah Vihear provinces and in collaboration with MAG in Battambang province, conducting technical survey and clearance of mined areas using both Mine Detection Rats and Technical Survey Dogs. Where where there were once minefields, there is now opportunity. Families like Kong Kol's in Cambodia can focus on growing crops and selling surplus to create a more stable and secure future for their children and grandchildren. Yet, much work remains to realise a mine-free Cambodia by 2025.
---
APOPO MA Cambodia is deeply grateful for the support and generous contributions of all its partners and donors.