APOPO, famed for its use of specially trained rats in landmine and tuberculosis detection celebrates its 25th birthday this month! Harnessing the highly attuned sense of smell in the African giant pouched rat, APOPO has spent the last 25 years training these affectionate rodents in detecting two of the deadliest threats on the planet: landmines and tuberculosis. Each gives off its own unique smell, undetectable to humans, something which the rats are able to quickly sniff out.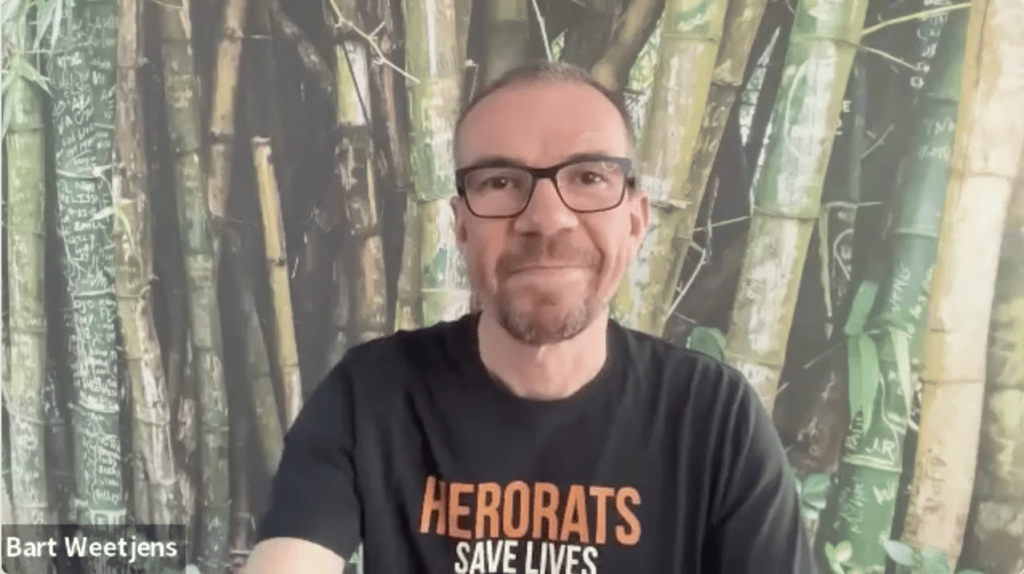 "These are systemic injustices, that lead to more exclusion, inequality, and disenfranchisement of the most vulnerable members of our human family," says Bart Weetjens, founder of APOPO. "There's a powerful and life-saving alert system in the little noses of these rats. Even after 25 years, I'm still in awe of what they are capable of."
How it all began
25 years ago, Weetjens, a graduate in product design at Antwerp University in Belgium, called his friend Christophe Cox (now APOPO CEO) to tell him about an idea he'd had after watching a documentary about landmines. Weetjens, who as a teenager had trained his own pet rats to find hidden objects for treats, wondered if rats could be trained to find these insidious weapons and free communities from the terror and hardship they cause. Putting together a team of dedicated colleagues and friends at the University, Weetjens presented the project to the Belgian Government in November 1997 and won the organization's first grant to test the idea. The APOPO project was born, later expanding into tuberculosis detection in 2007.
Find out more about Our History.
Mine Action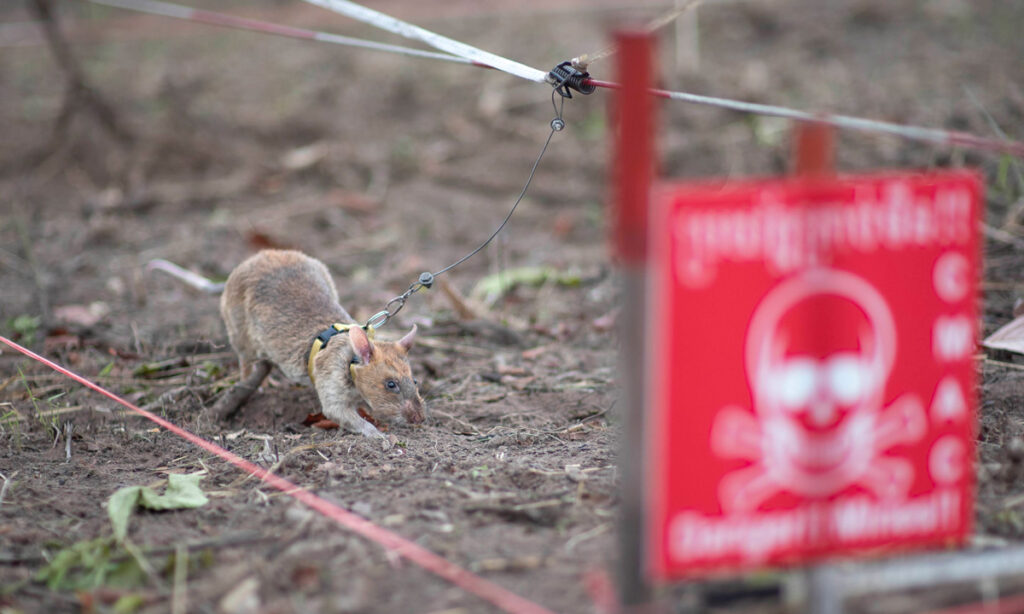 APOPO now faces the landmine issue in seven countries, including Cambodia, Angola, Zimbabwe, and, notably, Mozambique, where it played a key role in the country achieving 'Mine-Free' status in 2015.
Since 2017, APOPO also trains traditional mine detection dogs, as well as the state-of-the-art Technical Survey Dogs (TSD). Technical survey is a process that is principally applied to prove that large areas of minefields are in fact landmine-free and to narrowly identify boundaries for contaminated areas.
APOPO combines very effective use of 'HeroRATs' and 'HeroDOGs' (as we have nicknamed them) to achieve land release rates that exceed any other known methodology or approach. The animals play complementary roles for optimal efficiency: rats are excellent for clearance while the dogs are excellent for technical survey.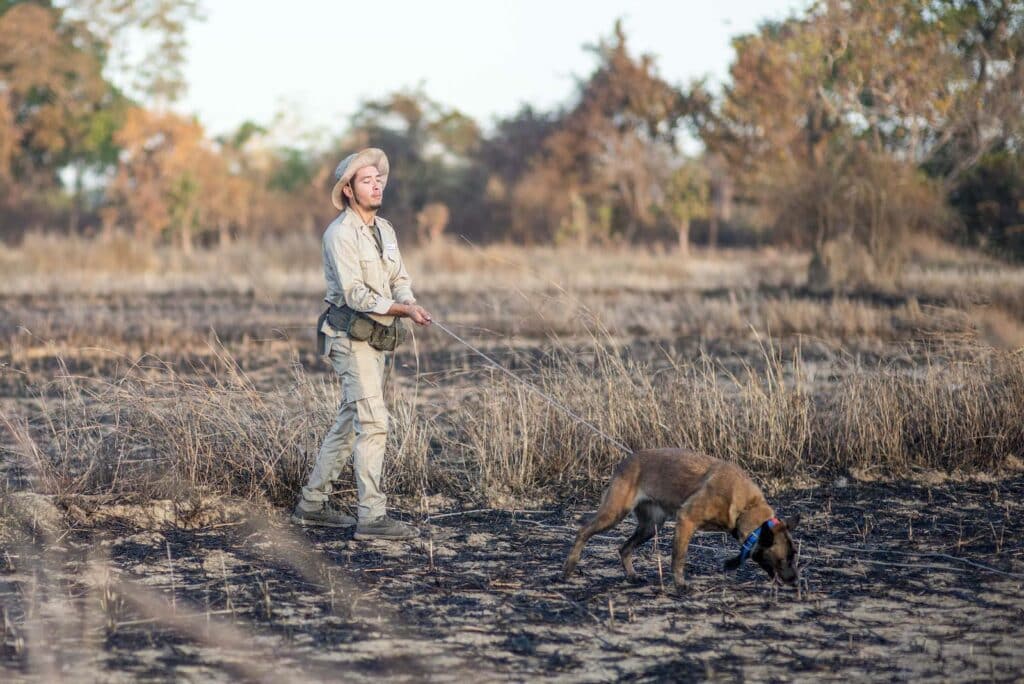 APOPO currently has over 40 operational dogs in Cambodia, Angola, South Sudan, Turkey, and Azerbaijan.
Our detection animals have helped APOPO clear over 152,000 landmines and other explosive remnants of war. As a result, we have been able to return close to 77 million square meters of safe land back to local communities, empowering them to build better lives for themselves and their families.
Tuberculosis (TB) Detection
Tuberculosis (TB) has killed more people in the past 2000 years than any other disease! While TB calls to mind images from another century of people dying from "consumption," in fact, TB is here among us, killing over 4000 people a day and pushing many more into a cycle of poverty.
APOPO's programs are expanding and work within government health systems to support over 150 partner clinics in Tanzania, Mozambique, and Ethiopia in their fight against TB. According to the WHO, about half of the TB patients in these countries are 'missed'. Some remain untested or unreported because of socio-economic barriers that prevent them from accessing healthcare. Even when they are able to overcome these barriers, there are limitations to existing diagnostic tools at clinics, resulting in 4.1 million people globally remaining undiagnosed and without treatment in 2021.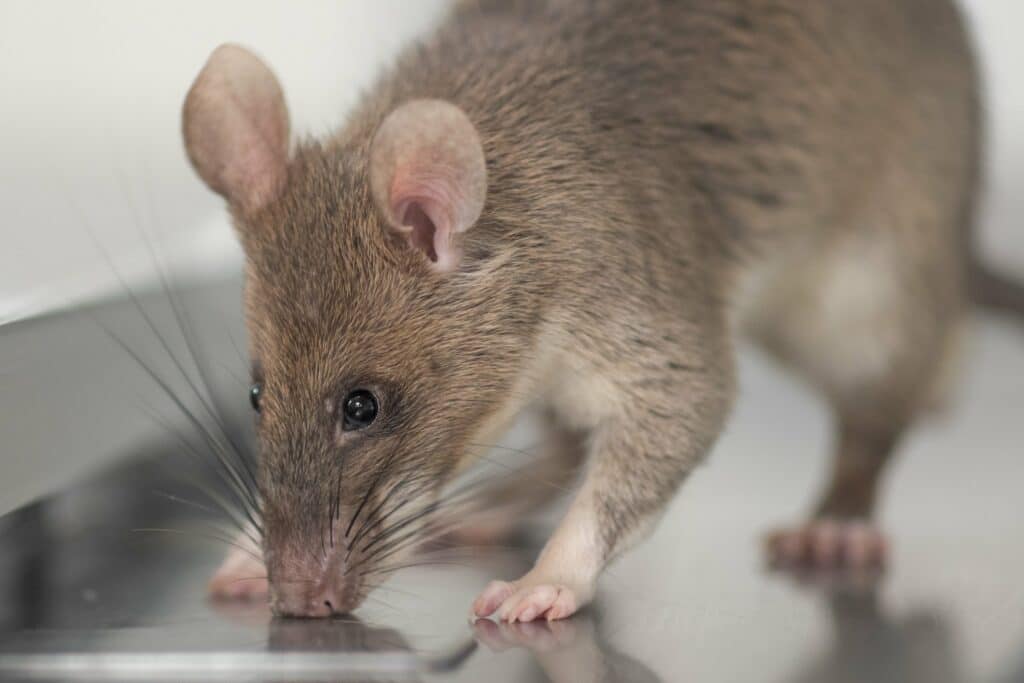 The high speed at which HeroRATs can search large numbers of samples as well as their high sensitivity results in a very low cost of only €1 per sample tested.
Our TB detection rats have helped APOPO identify over 25,000 TB-positive patients who were initially missed by their clinics, thus preventing over 250,000 potential new infections of tuberculosis – today's biggest infectious disease killer after COVID-19.
Innovation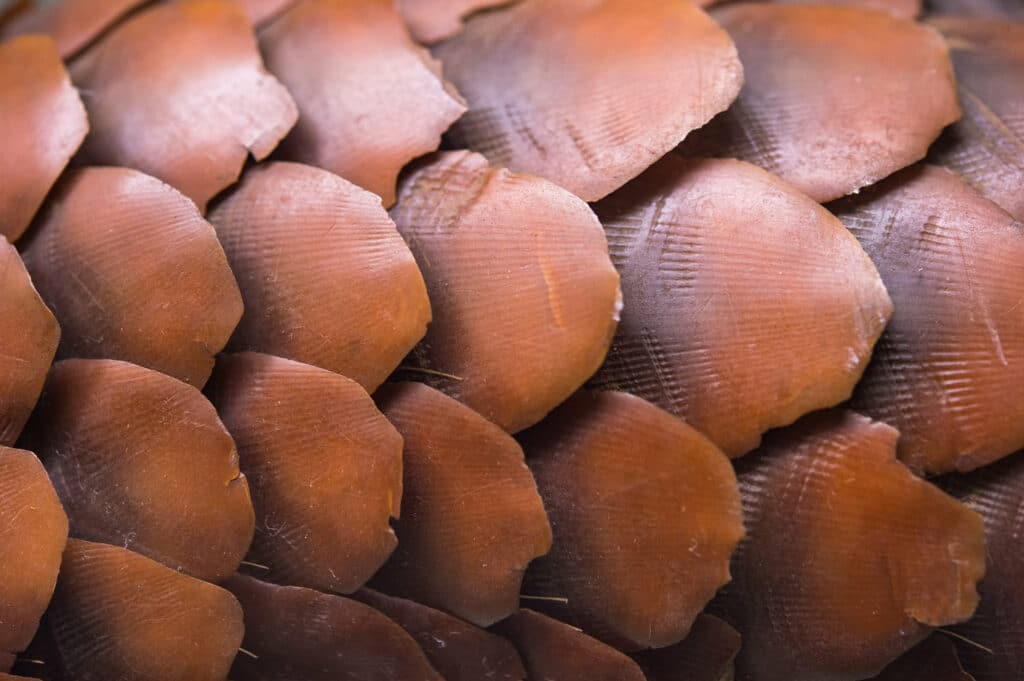 But APOPO has not stopped there. The organization began a program training rats to tackle illegal wildlife and hardwood trafficking, specifically focusing on pangolins — one of the world's most trafficked and endangered animals. APOPO is also training rats for Search and Rescue operations, particularly in collapsed buildings following natural disasters.
The Innovation team is based at APOPO's Training and Research Center in Tanzania, hosted by the Sokoine University of Agriculture (SUA) in Morogoro. This innovative research empirically informs training and operational protocols for new and existing applications. This is accomplished through multi-faceted research into the variables that influence the learning and scent detection performance of our HeroRATs.
Earlier this year APOPO launched its first Animal Olfaction and Welfare Symposium bringing together around 55 key experts and junior scientists from diverse fields related to scent detection, animal training, and welfare!
HeroTREEs Project
Over the last 5 years, APOPO through local partner SAT, trained 160 farmers of all ages, that successfully planted and maintain 17,000 trees (35 different species).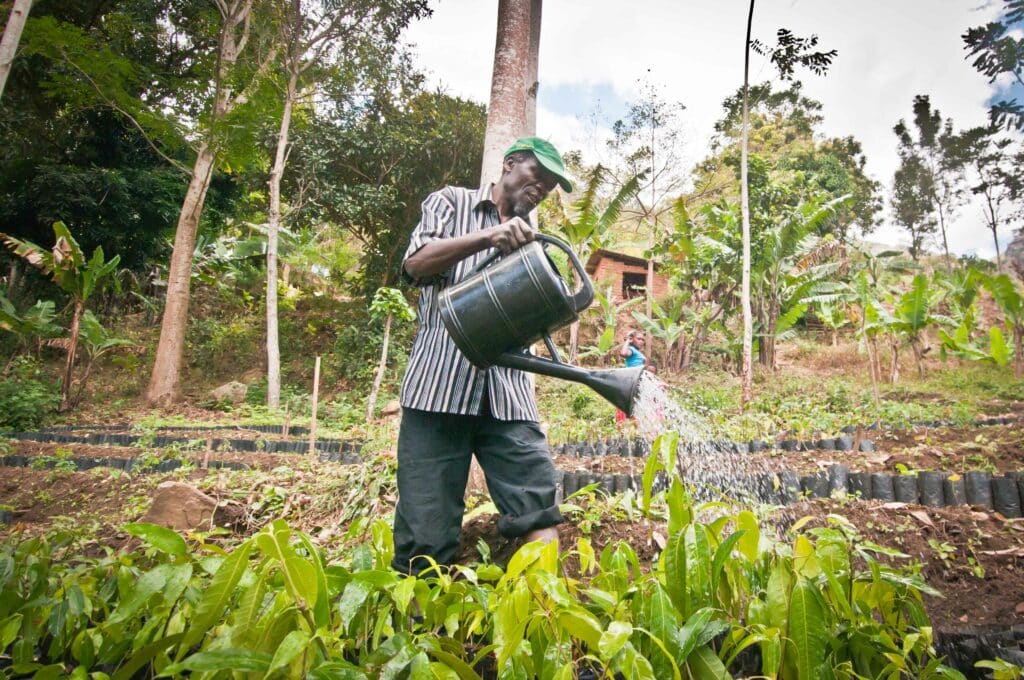 They are taught sustainable methods to revitalize their land — planting trees alongside their crops and smart organic agriculture skills that produce natural fertilizers. This leads to higher crop yields, increased income, and food security building resilience to a changing climate and sharing their experiences with their wider communities.
APOPO also embarked on a new initiative as part of APOPO's HeroTREEs project: Syntropic Farming. This is gaining more and more traction and APOPO plans to share this valuable knowledge and skills across our programs in different countries.
Learn more about our HeroTREEs project.
What Next?
25 years after the Ottawa landmine treaty was drafted to ban landmines, there is still work to be done. To this day, 60 countries are still plagued by as many as 100 million landmines and other explosives buried in the ground. However, global financial support for mine clearance is declining, necessitating a faster way to find the landmines. APOPO's goal is to become the go-to resource in accelerating the pace of landmine clearance as the world races to accomplish the Ottawa Treaty target of eliminating all landmines. In order to do this, APOPO's detection animals could be the key to speeding up the decades-long process.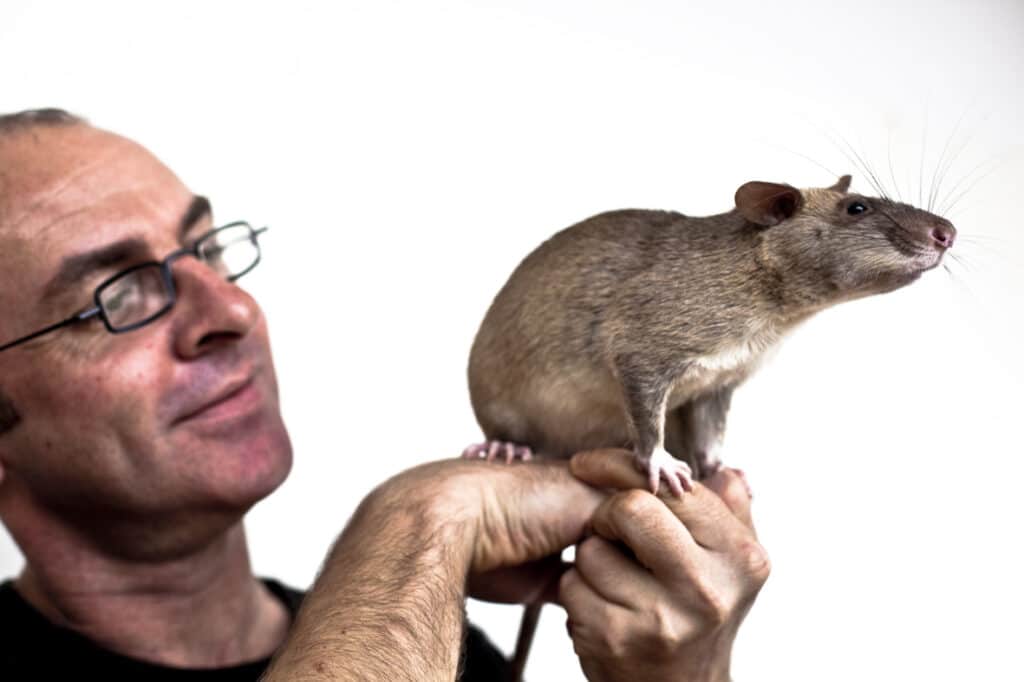 "When we launched APOPO, the common view was that it would take around 500 years to clear all landmines from the Earth's surface. 25 years later, there is light at the end of the tunnel, and if the international community fully supports the collaboration of all demining operators, we could clear the remaining minefields in our lifetime' – Christophe Cox, CEO of APOPO
At the same time, more than 1.6 million people died of tuberculosis in 2021. Over the next several years, APOPO wants to fight tuberculosis at the source by expanding much needed TB-detection activities in major cities in the high TB-burden countries where we work. Our teams in Tanzania will be placing an additional focus on pediatric TB and teams in Ethiopia on mass screening high-density areas of Addis Ababa.
We hope to see our search & rescue rats and anti-wildlife trafficking rats doing trials next year and showing the world how versatile and incredibly intelligent these little heroes are. We are also excited about how our HeroTREEs project is growing and gaining momentum in response to climate change.
Happy Birthday APOPO
As part of our wonderful APOPO community, your support has made 25 years of service possible, helping save lives in some of the most underserved communities in the world. Together with our detection animals, we have helped transformed 1,884,138 lives!
We would not have made it to 25 years, without the trust, support, and energy that you – our supporters – bring to our mission, so thank you!
You can make our birthday wish come true! Whether you choose to give $25 once, $25 a month, or any amount, your birthday gift will be invested into helping landmine and tuberculosis-affected communities.