International Day of Women and Girls in Science.
Today is the International Day of Women and Girls in Science, a day to celebrate the achievements of women in STEM. Science and gender equality are both vital for the achievement of the U.N. Agenda for Sustainable Development. That means closing the gender gap and getting more women working in these fields. Diversity in research expands the pool of talented researchers, bringing in fresh perspectives, talent and creativity.
According to UNESCO, less than 30% of researchers globally are women. While a growing number of women are enrolling in university, many opt out at the highest levels required for a research career. APOPO is dedicated to promoting women in all areas of our work, including the vital science that supports our life-saving rat detection research. Many skilled scientists and engineers have contributed to APOPO's endeavor since it began as a research project more than 20 years ago. Today, our activities are driven by a number of very talented women.
We caught up with Dr. Izzy Szott, Behavioral Research Scientist in an interview series to celebrate women in science at APOPO and hear more about her background and experiences.
What is your scientific background?
I have a BSc in Animal Behaviour, an MPhil in primate welfare and cognition, and a PhD in effects of tourism on wild African elephants. All my academic degrees were completed in the UK. I have a strong interest in wildlife conservation, in understanding why animals behave the way they do, how their behaviour is affected by environmental and internal factors, and how we can best assess and improve animal welfare.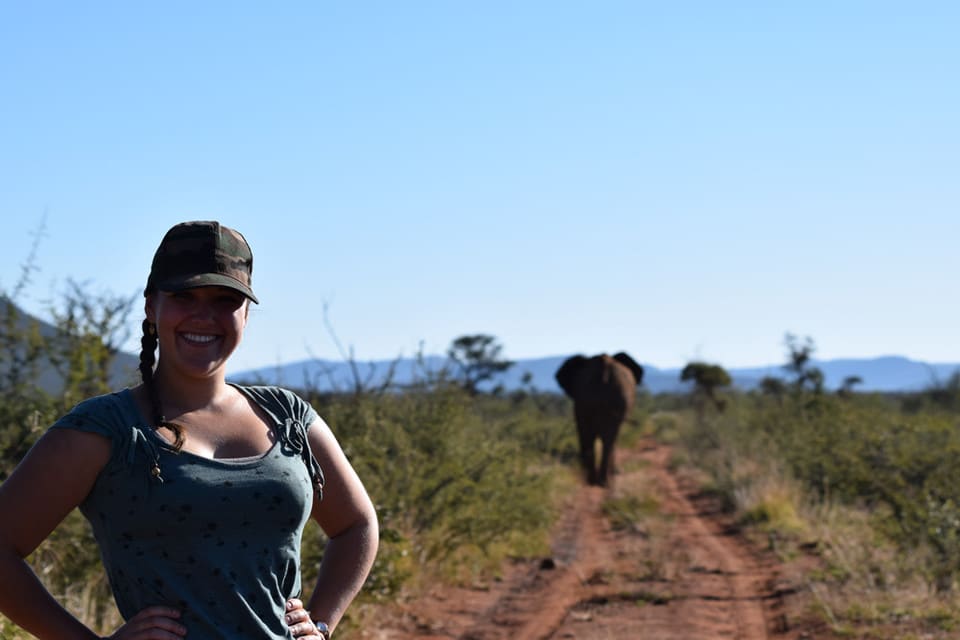 Why did you choose to become a scientist?
I don't think I consciously chose to become a scientist rather than to pursue my passion of working with and studying animals. They have always played a big and important role in my life and I was intrigued by how and what they think and feel. In following my interest, it just so happened that I ended up doing my academic degrees. 
Did you have a role model that influenced your decision to work in science?
No. My mother has always been extremely supportive of my choices and decisions and I think having this support allowed me to truly discover what interests me and follow this path. Of course throughout my studies I have generated a long list of scientists who I hugely admire such as Jane Goodall, Cynthia Moss, Robert Sapolsky, and Joyce Poole.
How did you choose your field of study?
I chose Animal Behaviour because it sounded like the perfect fit to better study and learn about all types of animals and really focus on why animals do what they do. I knew I didn't want to be a vet, biology was too broad, and zoology seemed more focused on captive animals. The fact that the UK offers such a wide range of degrees within that field was definitely an advantage. 
What are you working on at the moment?
I am leading the project to train our rats to detect illegally smuggled wildlife, am conducting a study with our mine detection rats to explore methods to keep their performance in the field at the highest level, am involved in organising a scent detection animal welfare symposium, working on a peer-reviewed publication which will hopefully come out this year, am acting as a scientific advisor to ECOWICE on their human-elephant conflict project (which is unrelated to APOPO's work), and am trying to get another publication out on tourism effects on animal behaviour.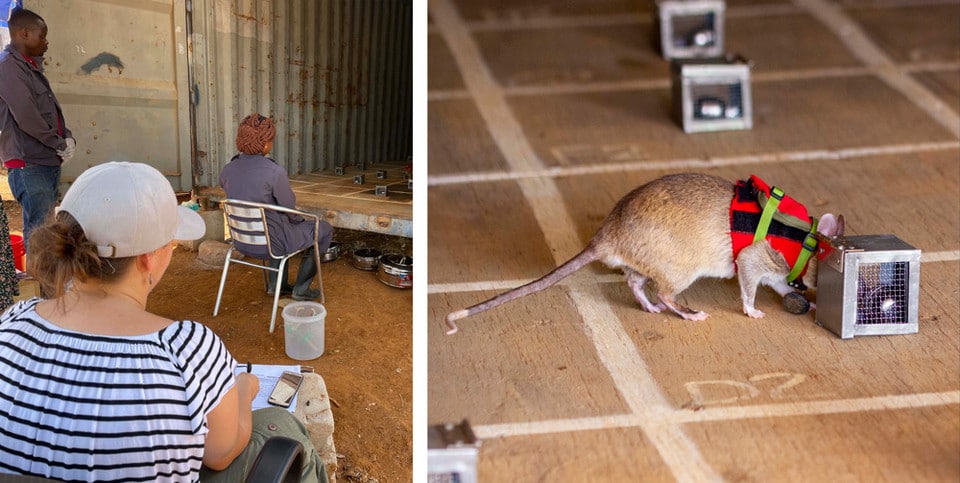 What is the funniest or most memorable thing that has happened to you while working in science?
There isn't a single thing that I could mention here. Working closely with animals throughout my MPhil and PhD has provided me with a lifetime of beautiful but also tragic stories and experiences. Being in the field to study elephants I have been lucky enough to witness rare behaviours and accompany the team on the ground when tracking cheetah, collaring elephants, and caring for injured rhinos. But I have also witnessed the devastation of the poaching crisis and seen how climate change affects weather patterns leading to animals starving to death. 
What are your biggest achievements?
Getting to complete my PhD in the middle of a pandemic is definitely up there. Also establishing myself as a female researcher in a male-dominated environment in the bush. And of course getting my job at APOPO and relocating to Morogoro to start a whole new life here. 
Do you come from an academic family?
Not really. My mother went to university but has never worked in a related field. 
How does your family feel about your career choice (and moving to Tanzania)?
As hard as it is to be so far away, they know I am happy and fully support it. In return, they have a great holiday destination and private tour guide whenever they wish to visit. 
What kind of prejudices (if any) did you have to face as a woman in your field? And how did you overcome them?
Plenty; unfortunately. From being told that a woman can't live alone in the bush or that women are 'too emotional' to be working in conservation, to being disrespected and treated as inferior by men. I try my best to stick to what is important to me and do my work as good as I can. As long as people don't get personal, I then try to ignore what they think and instead focus on my work. I must admit though, it's a great feeling to prove them wrong!
In your opinion, which changes, if any, are needed in the scientific system for it to be more attractive to women in science and possible future scientists?
More equity, as in any field, to truly enable women to pursue a career as well as a family is an important step. Also, decolonising science especially in Africa and building capacity will create more opportunities to uplift and empower women. Science would also benefit from more collaboration and inclusion of native peoples in its' approach. Some sciences just need to get off their high horse and accept that in order to a good job at anything, you should accept all the help you can get. 
If you could give advice to young girls in STEM (or a younger version of yourself), what would that be?
Don't let people tell you what you can or can't do! Whilst I acknowledge the privilege I hold as a white woman born in the Global North, I had to prove many people wrong throughout my life, trust in myself and take the plunge. Don't hold off because you think you may fail or because something is scary. Overcoming fears pays off and allows you to grow not only as a person but also become more confident. 
Join APOPO today in celebrating International Day of Women and Girls in Science – may we see many more women and girls inspired to pursue STEM-related fields in higher education and careers!