Belgian Ambassador for the day visits APOPO TB Tanzania.
The global #GirlsTakeover on International Day of the Girl (11 October) is a call to action for social and political change to bring down barriers of discrimination and prejudice that hold girls back. Each year, girls from all over the world step into the roles of media, entertainment, business and politics, for a day, to experience equal power, freedom and representation for girls and young women. This year the Belgian government joined Plan International in promoting girls' rights worldwide.
In Belgium Louise and Margaux became the new Ministers of Foreign Affairs and Development Cooperation for a day. Similarly, here in Tanzania, Bridget took over from the Belgian Ambassador H.E. Peter Van Acker for the day and on the agenda was a visit to the APOPO Tuberculosis (TB) Lab in Dar es Salaam. Bridget was accompanied by the Ambassador and Head of the Belgian Cooperation Mrs. Jasmien De Winne.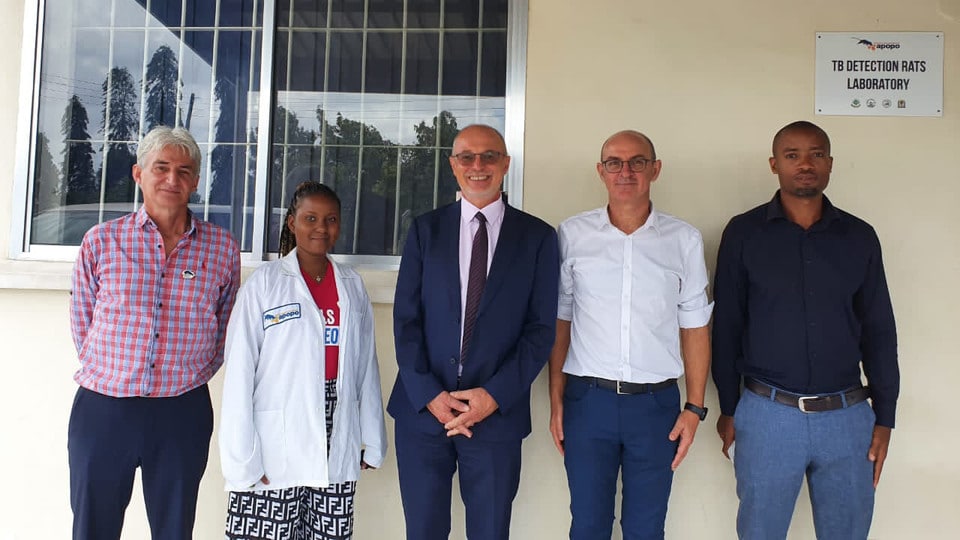 As a Belgian organization based in Tanzania, it was an honor to be included in the itinerary. The visit was hosted by Dr. Joseph Soka (Program Manager TB Tanzania), Bart Rombaut, (APOPO Head of Tuberculosis) and Christophe Cox (CEO). And it included a presentation on the history and activities of APOPO, the TB situation in Tanzania with detailed explanations on our 24-hour model, and an overview of the TB situation world-wide and its major players. Emphasis on vital long-term funding from governments like Belgium that are invaluable assets to our ability to addressing the TB pandemic. The visitors from the Embassy were also treated to a live demonstration of the APOPO TB detection rats at work sniffing at heat-inactivated sutum samples from local clinics and followed the route of the samples from arrival to confirmation test.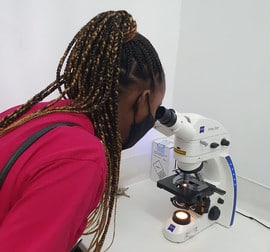 The TB detection research program in Tanzania was launched in 2007 as a partnership with just 4 government clinics. It has since expanded to include 75 collaborating clinics in Dar es Salaam city, Dodoma city, Coast and Morogoro. Operations began in Morogoro at the training and research center and in 2016 the Dar es Salaam testing facility was opened to get to the heart of TB response. APOPO supports national clinics and helps increase detection rates by 40%.
Tanzania is one of the world's 30 TB high-burden countries. Like most economically challenged countries, Tanzania's government clinics largely rely on smear microscopy that has a low sensitivity so many TB-positive patients go undetected. Only about half of the visiting patients with active pulmonary TB are correctly diagnosed, leading to further fatalities and the disease being passed on to the families and colleagues of the undiagnosed patient.
The recently released Global Tuberculosis Report 2021, which features data on disease trends and the response to the epidemic from over 200 countries – shows good progress in Tanzania at a country level.
Tanzania is among 86 countries that reached the milestone of a 20% reduction in the TB incidence rate between 2015 and 2020.
Tanzania is among 33 countries that achieved the 2020 milestone of a 35% reduction in the absolute number of TB deaths between 2015 and 2020.
However despite these achievements, COVID-19 combined with funding shortfalls are devastating efforts to end TB globally by 2030. According to the report, tuberculosis (TB) deaths in 2020 increased for the first time in over a decade, going up to as high as 1.5 million, an upward trend that is expected to worsen in 2021. To make matters worse, in 2020 only 5.8 million people diagnosed and treated for TB, down from 7.1 million in 2019. Much work remains to be done to find and treat all in order to end TB.