International  Mine Awareness and Assistance in Mine Action.
Men and women around the world risk their own lives when clearing landmines in an effort to help the local communities who live in fear of these dangerous, hidden weapons. For deminers, International Landmine Awareness Day is no different to any other day on the minefield. For APOPO, this day is an opportunity to highlight their courage, to raise awareness of the landmine issue, and to celebrate what has so far been achieved, whilst keeping in context the hard work that remains to be done. The focus this year for landmine awareness day is on perseverance, partnership and progress.
Perserverance
Everyone has the right to basic security in their lives, and not fear of their next step. Mine Action is about protecting people and their livelihoods from weapons that were laid for reasons that had mostly nothing to do with them in the first place. Yet, it is the local communities who bear the brunt of these forgotten killers. Too many of the world's minefields have been forgotten. 59 countries and territories are still contaminated with landmines. The COVID-19 pandemic brought new health and safety, logistical, and revenue uncertainty as countries went into lockdown. Thousands of people continue to be killed and injured every year, the COVID-19 pandemic has forced mine clearance efforts to scale back. In some countries, NGO programs were suspended, staff repatriated and strategic goals had to be revised. Donors faced a drop in results as movement and progress were restricted. Around half of global mine casualties are children, and the face to face interaction restrictions have hampered Mine Risk Education, one of the pillars to prevent injury. Additionally, the pandemic has prevented landmine victims and other persons with disabilities from accessing services in a number of mine-affected countries. The pandemic is exacerbate pre-existing vulnerabilities, especially in affected countries. APOPO is grateful that in these difficult times, its mine action department has not only exceeded planned annual targets within existing programs, but also continues  expanding into new projects and solidifying partnerships with other demining organisations.
APOPO, through integrating its mine detection animals, is committed to clearing landmines and releasing land at an accelerated pace, helping to protect more people and release whole communities from a daily anxiety. The need for protection against landmines is not only for humans. Mines are also found in isolated areas where wildlife roams, such as along the border between South West Zimbabwe and Mozambique.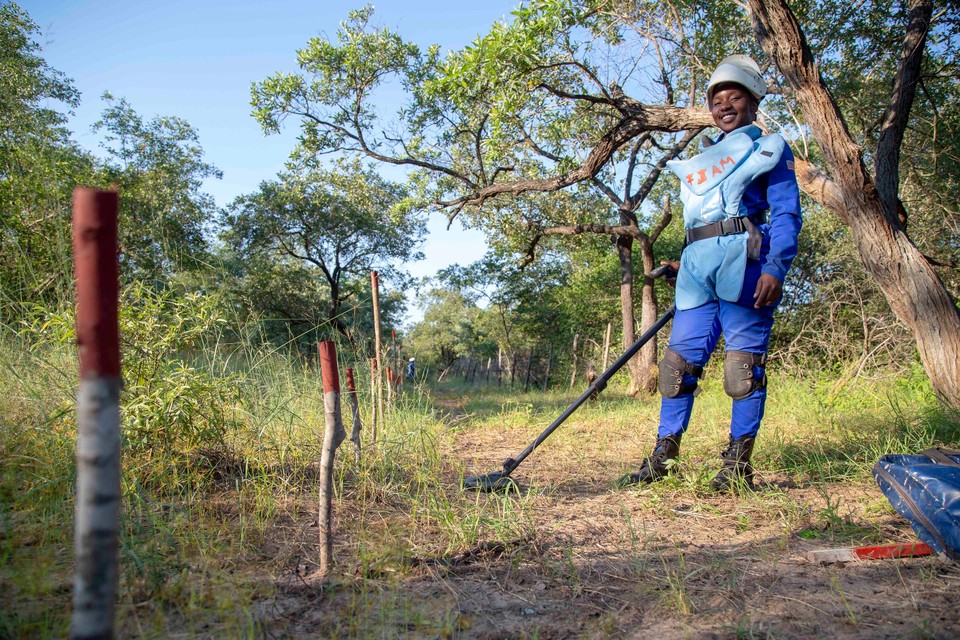 APOPO deminer in Zimbabwe. By hiring women and men from the landmine impacted communities, APOPO raises our staff, their extended families and the local communities out of poverty while contributing to peace-building and sustainable futures.
Reinforcements for Team Magawa
20 new rats from the APOPO training center in Tanzania successfully completed their landmine detection training, were internally accredited and have recently arrived in their new home in Cambodia. These reinforcements arrive at an opportune time, following the expansion of the APOPO Cambodia landmine clearance program. HeroRAT Howes (named after heroic British deminer Christopher Howes) and her teammates will be providing much needed capacity to APOPO's operations in Cambodia, joining the other mine detection rats that have been there since 2015 working in partnership with Cambodian Mine Action Center (CMAC). Some of these veteran rats, like Magawa (who was awarded the PDSA Gold Medal for life-saving bravery last September) are nearing retirement age so they will work together with the new recruits during a transition period. The new recruits are expected to be accredited by the national mine action authority and deployed by May after the Khmer New Year. 
Partnership
Over the last few years Mine Action has evolved from confined landmine related activities, to actions associated with the Convention on Cluster Munitions (CCM), disarmament and the unique situation in the Middle East, where there is a high demand for building clearance, removal of Improvised Explosive Devices (IED) and clearing booby trapped devices. There is a large demand for efficient survey and clearance methods that can address challenges in the extended sector. APOPO is a small international charity organisation and we offer both innovative and efficient solutions that surpass traditional mine action and will speed up the wider survey and clearance process. Our focus remains on landmines, but we are also expanding it. With the right partnerships, we can better address new disarmament challenges in a wider collaboration with other global demining organisations. APOPO's most important contribution is to offer integration of efficient and complementary technology to that provided by others. This year, APOPO is implementing a pilot project to prove the concept of using technical survey dogs as part of cluster munition survey and clearance in South-east Asia.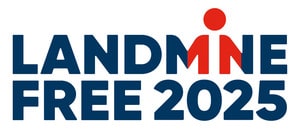 APOPO is part of the global "Landmine Free 2025" coalition, a global response to rally support for landmine clearance and ensure people affected by landmines are not forgotten. This campaign is a call to action to work together to do more, and faster. We will work more closely with other Mine Action NGOs and with national authorities to support or develop plans for clearance and the funding to achieve it.
Progress
In 2020, we continued to clear landmines and other explosives in Angola and Cambodia and began new operations in Zimbabwe. Countries that are among the top five mine-affected countries in the world. We deploy a mix of scent detection animals to get the job done: dogs for technical survey, rats for clearance and manual deminers and machines to support the animals. Using this further expanded toolbox, APOPO Cambodia teams have increased efficiency five-fold over the last 3 years. We have also deployed animals in South Sudan and with partners, we could further expand into more mine-affected countries and territories. Our commitment towards higher operational efficiency could generate sector-wide efficiency achievements beyond what we can achieve alone. 
Much work remains to realise a world free of mines. We must not turn our backs on the 60 million people living with the daily risk of landmines. The International Community needs to stand together and keep the promise to declare as many countries as possible landmine free by 2025. With increased political will and funding, most mine-affected countries could realise these goals! Only with the continued support of our partners and donors, we will be able to do so. We will further maintain our commitment to support communities that are affected by mines, ERW and other explosive items. With more funding and strategic partnerships, we will expand our efforts towards a Landmine Free 2025.
Let us pay tribute to the APOPO men and women who show extraordinary bravery in their mine clearance work. Today is International Mine Awareness Day. Join us and show support and solidarity with all those affected by landmines, and those working towards a Landmine Free 2025.
A complete overview of our work in landmine clearance can be found by clicking here.
APOPO Mine Action is most grateful to its donors and partners who are
instrumental to the success of our landmine clearance program.