PPCBank 
APOPO is thrilled to announce new support from Phnom Penh Commercial Bank (PPCBank) in an effort to help rid Cambodia of the deadly legacy of landmines. Last Thursday August 27th, the bank kindly donated US $6,000 to APOPO's life-saving mission at a handover ceremony in Phnom Penh.
Michael Heiman, APOPO Program manager presented APOPO's work at the event and said "PPCBank's donation will enable us to clear land up to 24,000 m2, the size of two football fields in Siem Reap province.! We hope that this cleared land will give people new hope to live their lives freely and to the fullest!" said Mr Heiman.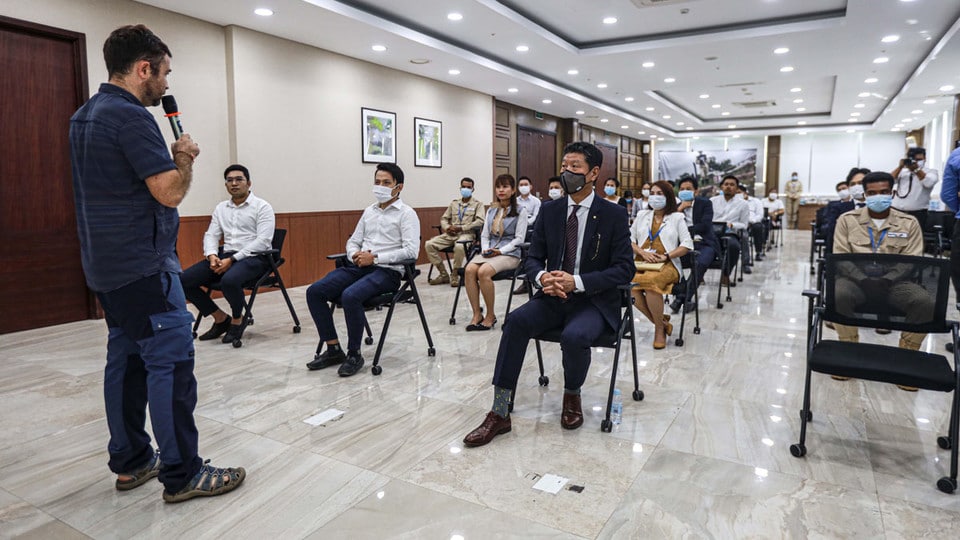 APOPO demining teams in Cambodia are targeting the most mine-affected villages in order to return safe, productive land back to local communities where it can make the most significant impact. APOPO has a holistic understanding of the most important areas to target because of a proactive communication strategy with the communities themselves, the National Mine Action Authority (CMAA) and our partner Cambodia Mine Action Center (CMAC).
Through integrating mine detection animals into its methodology, APOPO is committed to clearing landmines and releasing land at an accelerated pace, helping to protect more people and release whole communities from a daily anxiety.
It has been 20 years since the Campaign to Ban Landmines won the Nobel Peace Prize. Since then, 31 countries have been declared mine-free and tens of millions of square meters of previously dangerous land have been released. Yet more than 60 million people still live with the daily fear of land mines and unexploded bombs. Cambodia has pledged to clear the country of mines by 2025. A deadline that will be difficult to achieve without significant additional funding and innovative methods to speed up the process.
Since 2016, APOPO has deployed 43 HeroRATs in Cambodia to sniff out and pinpoint leftover landmines and explosives. The program has cleared over 18 million m2 of land, found and destroyed over 46,000 landmines, and explosive remnants across the country.
It's mind-blowing to realize that there are still many people in Cambodia who have to give up their homes out of fear to step on a mine while walking, farming, or even going to school. We see it as a privilege to be able to help vulnerable Cambodians by supporting the brilliant work APOPO has been doing," said PPCBank president, Mr. Shin Chang Moo (pictured above with HeroRAT Peter Parker).
APOPO Mine Action Cambodia is most grateful to PPCBank for their support.