International Day of Education.
Since 2018 when the United Nations (UN) General Assembly announced the 24th of January as International Day of Education, this day has served as an opportunity to remember that education is an engine for poverty eradication and a force for peace. It is also a day to reflect on how APOPO advances UN Sustainable Development Goal 4: to ensure inclusive and equitable quality education and promote lifelong learning opportunities for all.
This year's theme is "Changing Course, Transforming Education." The UN Educational, Scientific and Cultural Organization (UNESCO) earmarked today's celebration to showcase the most important transformations needed to realize everyone's fundamental right to education and build a more sustainable, inclusive and peaceful future. 
Education is a human right not a privilege. Something that can be forgotten when there are daily threats that are life-threatening. Education transforms lives and gives children the tools to lift themselves out of poverty and sets them on a path to a promising future. This can be complicated when the path to school is not safe and littered with hidden dangers. APOPO teams clear landmines from areas in and around schools. Many landmines are found near schools or on the routes children take to go to their classes and sadly half of all known civilian landmine casualties in 2020 were children.
Risk Education
In landmine-affected communities, children are sometimes deprived of their right to education as they have to leave school to take care of a family member who has been injured. Sometimes, when an adult is injured by a landmine, children have to completely abandon school to work to contribute to the household's income. By clearing minefields and releasing safe land back to impacted communities, APOPO actively participates in keeping kids enrolled in schools. 
APOPO works quickly and cost-efficiently to make land safe by clearing landmines and other explosives, like cluster munitions, so families living near minefields can rebuild their lives and children can go to school in safety. It is important that during that time nearby communities are taught how to stay safe. Risk education sets out to arm as many men, women and children as possible with potentially life-saving information on how to recognise, avoid and report threats. 
Cambodia

Alongside the clearance efforts in the Province of Preah Vihear, APOPO provides Explosive Ordnance Risk Education (EORE) in the neighboring communities. The purpose of APOPO's EORE is to reduce injury and death from landmines and other threats by informing school-age children about how to protect themselves and their peers. The effort is currently concentrated in Choam Khsant District, one of the most mine affected areas in Cambodia, that has suffered from numerous accidents in recent years. It is often that following EORE lessons, the community immediately reports on new items that were found, leading to a proper handling of the hazardous objects by our mine clearance teams.
Zimbabwe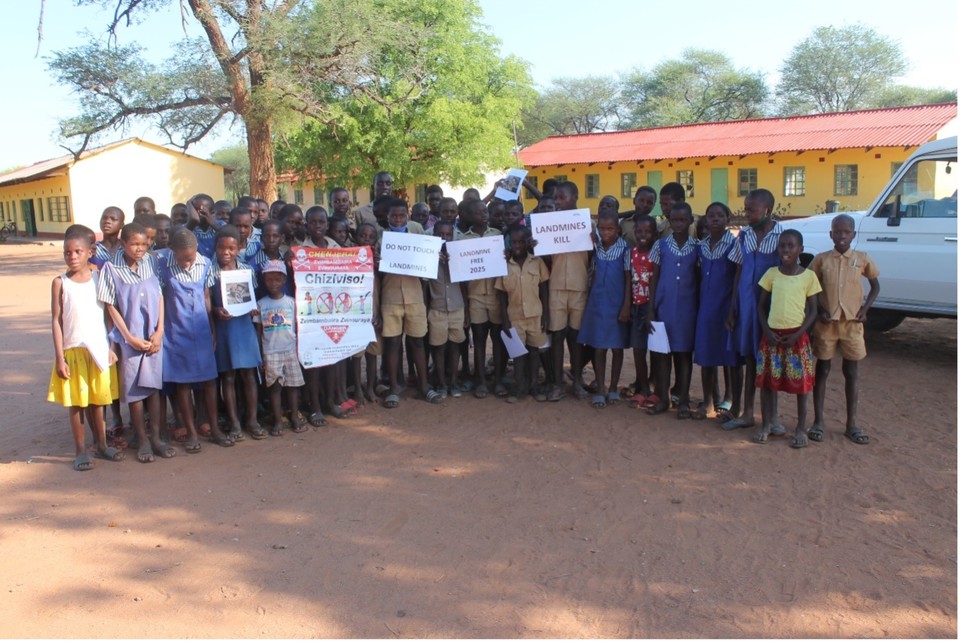 Along the border of south-eastern Zimbabwe and Mozambique is the dense minefield that APOPO has been working hard to clear. It spans from the Sango Boarder Post to Mwenezi River. The communities living nearby have lost lives and precious livestock because of landmines left behind since the end of the Liberation war, decades ago. It is APOPO's duty to empower communities to stay safe, this counts for all children and adults alike. APOPO has been teaching risk education to Chilothlela Primary School, Malipati Secondary School, Malipati Primary School, Muhlekwane Primary School and the wider Sango border community. APOPO hopes to reach over 4500 people with these sessions in first quarter of 2022. Risk education is vital to ensuring that everyone, especially children, can spot explosive hazards and know how to report them correctly.