Thanks to the U.S. and Swiss Governments, APOPO has been busy clearing a vitally important eco-tourism and conservation area of deadly landmines since early 2021. Charles Richter, APOPO's US Director, has served as the primary manager of the U.S. State Departments grant to the project (to date $1.5M). Charles visited the Zimbabwe project in June 2022, finally meeting the Zimbabwean team who make APOPO's life-saving work there possible.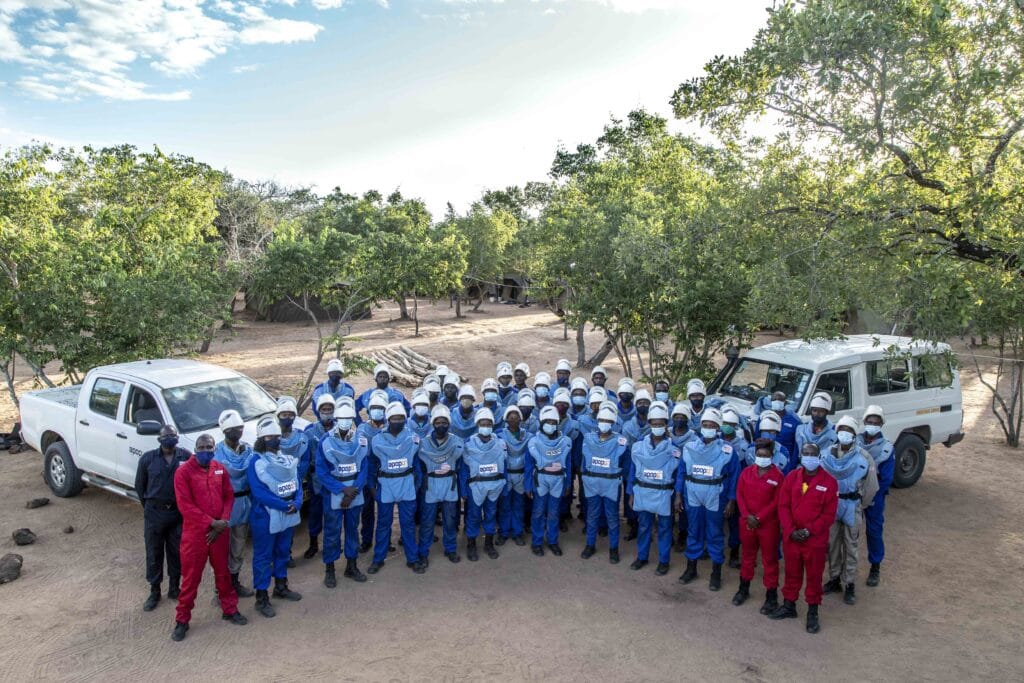 "It was incredibly heart-warming to be so welcomed by all APOPO's staff in the Sengwe Corridor. Meeting all the hard-working women and men who work super hard on APOPO's dense mine field over 220 days a year, as well as all the motivated support staff, was incredibly inspiring. I could not have had a better visit. I had the chance to sit down and brainstorm with my colleagues about ways we can modernize and improve our data management as well as launch projects to support the livelihoods of local communities and conservation and eco-tourism efforts. Sitting around the campfire after a hard day's work and sharing stories was also a highlight! It was particularly inspiring to hear employees from the local villages next to the minefield, talk about how they are now viewed as heroes in their communities. All of them had stories about how the minefield had either harmed family members, friends or livestock which are key to their families livelihoods. It is inspiring knowing the funding we receive is helping them eliminate problems that affect their own community's problems!"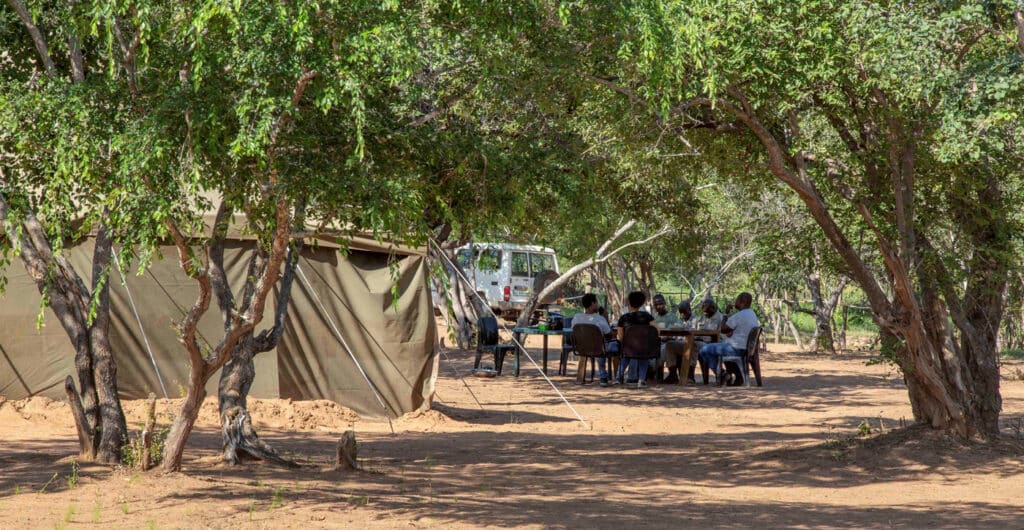 To date APOPO's program in Zimbabwe has released over 450,000 square meters from the threat of landmines, benefitting over 2,000 people in nearby communities. An estimated 1.1 million square miles of confirmed hazardous area remains. The team is expecting much of it will be even more tedious than what APOPO's staff has encountered to date. Nevertheless, APOPO's team is ready for the challenges ahead, and with sustained funding, should have a good chance of clearing the landmines on its task before Zimbabwe's 2025.
Charles (left), APOPO's Program Manager John Sörbö (right) and Community Liaison Specialist Constance Chirhilele also visited the Headquarters of Gonarezhou Conservation Trust (GCT), which manages eco-tourism and conservation efforts in Gonarzhou National Park, where APOPO's task is located. The collaborators had a productive visit and discussed ways APOPO could support community livelihood efforts that would both improve food security and conservation efforts for elephants and other precious wildlife. APOPO and GCT discussed how the GCT IT infrastructure could help support APOPO's project, and how APOPO's camp infrastructure may one day prove valuable to GCT once its landmine clearance efforts have finished.
"It was great learning more about GCTs critical efforts in the park and brainstorming ways we can support each other's critical efforts. It was also pretty cool that I saw numerous baboons, and hippos on our car ride there!"
---
APOPO Mine Action Zimbabwe is incredibly grateful to all our dedicated partners and donors.